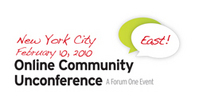 I love unconferences. People are more open, talk to each other, share their knowledge freely among the group and there is always something new to learn from our peers. It's simply the way all conferences should be.
San Jose, CA (PRWEB) January 13, 2010
Forum One Networks, a strategy and research group specializing in online communities, announces attendees for the Online Community Unconference East, which takes place in New York, NY on Wednesday, February 10, 2010. Unconference attendees will determine the agenda the day of the event and choose session topics to lead and participate in, offering plenty of hands on learning opportunities.
"We're anticipating this year's unconference to be our largest east coast event to date with over 250 social media and online community professionals participating," says Bill Johnston, Chief Community Officer of Forum One Networks. "In 2009, in spite of the recession, interest in community and social media activities grew. In 2010, many organizations are actively working to assess the value and effectiveness of their programs, as well as enabling 'social' functions throughout the organization. We will cover these topics and more at the OCU East."
The unconference provides social media and community practitioners with access to hundreds of other professionals to network with and share their experiences, challenges, and solutions. The interactive culture of the event ensures that everyone who attends will have the opportunity to participate in sessions that are most applicable to their business needs.
Attendees include senior level folks from leading companies including; Microsoft, Answers.com, Consumer Reports, Autodesk, Scottrade, TripAdvisor, CafeMom, Cisco, IBM, Bloomberg BusinessWeek, iVillage / NBC Universal, Rosetta Stone, Google, Harlequin Enterprises, The Humane Society of the United States, Scottrade, WEGO Health, Partners In Health, Pride Mobility Products Corp, Everyday Health, Envision EMI.
There are several sponsorship slots still available. If interested, please contact Bill Johnston @ bjohnston(at)forumone(dot)com.
To register for the Online Community Unconference, or for more information, please go to:
http://ocue2010-pr1.eventbrite.com.
About Forum One Networks
Forum One Networks is a division of Forum One Communications, a web strategy and development group based in Alexandria, Virginia, with offices in the California Bay Area. Forum One Networks produces events, conducts research, and provides networking and strategic consulting for online community and social media professionals.
# # #