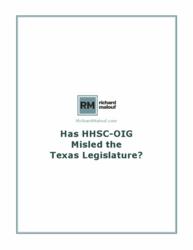 Dallas, Tx (PRWEB) June 11, 2013
A new 8-page downloadable article is now available online questioning testimony given by representatives of the Texas Health and Human Services Commission Office of the Inspector General in January and February, 2013, to various Texas legislative committees regarding the agency's investigations into Medicaid fraud.
The article is entitled "Has HHSC-OIG Misled the Texas Legislature?" and begins with the following introductory paragraphs:
"Over the last year, the Health and Human Service's Commission Office of the Inspector General ("OIG") has been in the spotlight on Texas Medicaid. Representatives of OIG -- Inspector General Douglas Wilson and his apparent deputy for enforcement Jack Stick -- have made numerous public statements regarding Medicaid fraud in Texas, in particular about dental orthodontic services.
"One of OIG's chief purposes is to interdict Medicaid fraud. Certainly every decent person is in favor of stopping fraud. But OIG has painted a picture of rampant fraud by orthodontic dentists -- a picture which is not, at this point, borne out by court decisions.
"In fact, OIG has only had its claims on rampant fraud tested in court (the State Office of Administrative Hearings, "SOAH") one time. That decision, which upended OIG's claims, has been upheld by an HHSC administrative judge. This precedent-setting decision -- that of Harlingen Family Dentistry ("HFD")* -- came out last September and was upheld in early January of this year."
"This precedent-setting case is well-known to OIG, Medicaid providers and their attorneys. Yet OIG statements to the legislature this session ignored this legal decision and its implications for future orthodontic cases. In fact, OIG has seriously downplayed the facts in several instances. One could even go so far as to say that legislators were misled."
The article goes onto compare testimony given to various committees of the Texas Legislature in this light.
The article can be downloaded here.

SOAH Docket No. 529-13-3180 Harlingen Family Dentistry vs. Texas Health and Human Services Commission