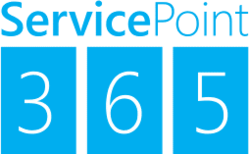 The collaboration capabilities Office 365 brings to a project environment and team is amazing. Throw in ServicePoint365 and PMPs have a ready-made environment without the need for deep SharePoint skills
Norcross, GA (PRWEB) March 31, 2013
ServicePoint365 by Cloud|AG maximizes the collaboration and content management capabilities of Office 365, specifically for project-centric services companies and professionals. The solution increases Return on Investment (ROI) and reduces time to benefit of Office 365 for professional services operations by providing a number of "Centers" that are preconfigured to help companies better organize, collaborate and manage their client-, project- , proposal- and resource-related information.
Office 365 and ServicePoint365's impact on internal and external project-related collaboration can be significant. Albion Scaccia Enterprises, LLC, a woman-owned full service design-build, and construction management company, is leveraging Microsoft Office 365 and ServicePoint365 to help increase their internal and external collaboration capabilities and position themselves for the future.
"Our business relies on a disbursed group of professionals working together with our clients and partners for a common goal. Having a centralized repository for project drawings, specifications, change order logs, owner/architect meeting minutes, and other project information that all stakeholders can securely access from multiple devices and locations is critical to ensuring everyone is on the same page," says Office 365 and ServicePoint365 customer Brian Newsome, Executive Vice-President at Albion Scaccia.
"The collaboration capabilities Office 365 brings to a project environment and team is amazing. The addition of Lync Online and SharePoint Online to the core Exchange email environment gives project management professionals and teams the tools they need to stay connected and collaborate on project deliverables. Throw in ServicePoint365 and PMPs have a ready-made environment without the need for deep SharePoint skills," said David Huseonica, President and CEO at Cloud|AG.
About Cloud|AG
Cloud|AG assists companies of all sizes to realize the power and flexibility of Microsoft's cloud-based collaboration and business applications. In addition, the industry solution ServicePoint365 helps professional operations maximize the collaboration and content management capabilities of Office 365 or SharePoint (Online or On-Premise). For additional information or to begin a free trial, contact Cloud|AG at info@cloudag.com, (855) 256-8324, or visit http://www.cloudag.com. ServicePoint365 information can also be found in the featured application section of Microsoft's Office 365 Marketplace at http://office365.pinpoint.microsoft.com. Office 365 and SharePoint Online are registered trademarks of Microsoft Corporation.