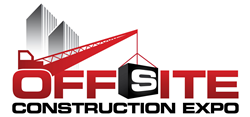 "The best part was networking with industry people from across the country" - 2015 Offsite Construction Expo attendee
Washington, DC (PRWEB) June 08, 2016
Registration is now open for the 2016 Offsite Construction Expo. Last year's expo registered more than 500 qualified attendees including architects, engineers, developers, owners, and contractors. There is simply no greater opportunity to reach key partners in the offsite construction industry.
The Offsite Construction Expo offers a focused presentation of the abilities of offsite construction across all markets. Attendees and exhibitors alike will benefit from the variety of modular vendors and component suppliers all in one room. Previous show attendees have raved about how "the best part was networking with industry people from across the country."
This event registration is only $99 for any qualified architect, developer, engineer, traditional contractor, government agency, school and/or university, procurement official, or policymaker wanting to network with providers of offsite construction systems. Educational opportunities are also available with multiple case studies over the latest trends presented throughout the expo.
The Expo features exhibits of offsite construction processes. The offsite construction sector consists of four main categories: panelized, modular/volumetric, hybrid, and sub-assembles/components that can improve construction processes. These systems and processes are ideal for the following markets: Education, Healthcare, Hospitality, Retail, Multifamily, and Office.
Exhibitors include offsite construction contractors, traditional contractors that have integrated offsite methods, offsite factories, transportation companies, BIM suppliers, materials suppliers, and consultants of all types of offsite construction processes.
The 2016 Offsite Construction Expo hosts and supporters include the Modular Building Institute, National Institute of Building Sciences, Design Build Institute of America, Precast/Prestressed Concrete Institute, Canada BIM Council, The Catholic University of America, Modular Home Builders Association, Virginia Tech, and the University of Utah.
Register now and discover all that offsite construction has to offer!