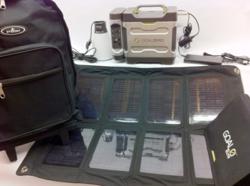 Our Off-the-Grid solar system is inexpensive, around six-hundred dollars, and it's compact and portable.
Tarzana, CA (PRWEB) July 09, 2012
"When the power grid goes down, grid-tie solar systems will go down with it," says Mike Adams, editor of NaturalNews.com in a June 16th article. "A lot of people believe they are becoming "power independent" by installing grid-tie solar systems, but what many don't realize is that virtually all such systems are designed to actively go offline when the power grid goes offline."
A spokesman from PowerSurvival.com backed up the research, adding, "While a rooftop solar panel pushes excess electricity back into the grid during daylight hours and pulls electricity out of the grid at night, by code, most of these systems have a necessary safety switch that turns the entire system off during a blackout. The reason being, if your solar array were to push power into the grid during a blackout, workers would be unable to repair lines as the lines would be dangerously hot. The only exception is to install an AC Coupling which will switch the electricity normally generated to the grid and transfer it to backup batteries, an expensive proposition."
The Home Power Kit by PowerSurvival.com was designed for power failures, temporary blackouts, or in the event the entire electrical grid goes down for a prolonged period. It can be charged by a wall adapter continuously so that power will always be available, and during a prolonged blackout, its solar panels will recharge it during daylight hours.
"Our 'off-the-grid' solar system is inexpensive, around six-hundred dollars, and it's compact and portable," the spokesman continues." The Home Power Kit comes in a backpack on wheels so women and children can easily move it and set it up. "And while it isn't meant for use as a perpetual source of power, it will light an entire house, allow you to watch a flat screen television or run certain necessary appliances. Its 350-watt batteries can be chained together and the 400-watt Universal Inverter has outlets for 110 and 220-volt, cigarette lighter and USB outputs. We even have available a power adapter that allows the user to charge the battery while driving in an automobile simply by plugging it into the car's cigarette lighter. Of course, the best part is recharging the battery pack for free, directly from the sun!"
PowerSurvival.com is located in Tarzana, CA and specializes in travel kits for solar-powered phone and iPad recharging, camp lighting accessories, adventure power kits for backpacking, and solar power generators for home, apartments or high-rises. They can be reached by phone at 866-305-1753, or through their main website at FirstAidGlobal.com.