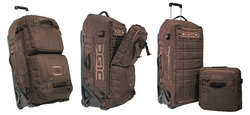 Bluffdale, UT (Vocus) February 26, 2009
OGIO's new Bus rolling duffel brings is nothing short of an attention magnet. As a single unit, this generously sized bag looks like the epitome of organized travel gear with multiple grab handles, oversized zipper pulls, and sturdy urethane wheels. But by simply peeling the bag's top from its magnetically secured position, it easily separates and folds together to become a perfectly sized carry on messenger bag.
"The OGIO Bus gives new meaning to the concept of 'efficiency,'" says OGIO President David Wunderli. "I love watching fellow travelers react to this bag because its utility is at first a surprise, and then becomes staggeringly obvious. The bag's removable magnetic panel/briefcase is a seamless, integrated solution that actually brings a little joy to the journey."
In addition to its detachable carry-on compartment (complete with padded shoulder strap) and retractable Pullman handle, the Bus features OGIO's proprietary SLED (Structural Load Equalizing Deck) system - a sturdy undercarriage panel that provides increased durability and handling. At 34" x 16" x 14", the Bus also is sized to meet the maximum linear dimensions airlines allow without a check-in fee. A U-shaped opening unzips to reveal substantial organized storage, while oversized urethane wheels, mesh dividers, multiple neoprene grab handles and both internal and external compression straps keep contents secure and maneuverable.
Like all of OGIO's travel gear, the Bus is accompanied with a lifetime warranty, ensuring the bag lives up to its promise of durability. The OGIO Bus (MSRP: $299.00) can be purchased through http://www.eBags.com, http://www.ogio.com, as well as through major sporting goods retailers nationwide. The bag is available in Black, Brown Plaid, Bruno (red) Plaid, and Icon Army (black and gold). Coordinating travel gear - including backpacks, golf travel bags, and smaller rolling duffels - are available to complement the OGIO Bus' many designs. For more information about this or other OGIO travel gear, visit http://www.ogio.com.
CONTACT:
Kelly M. Mooney
This Just In PR & Marketing
503.722.4080 or 801.450.1009
kelly (at) tji-inc (dot) com
###