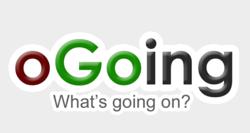 "I am on a mission to connect 10 million small business on oGoing. I invite all owners, entrepreneurs, startups, SMBs and professionals to join oGoing today. You are going to love it." - Sanjay Dalal, oGoing founder
Los Angeles, CA (PRWEB) December 27, 2012
oGoing, USA's leading small business social network, had an amazing growth in 2012. oGoing membership grew 500% in 2012, and the fastest growing business social network now reaches out to over hundred thousand small businesses, owners, entrepreneurs, startups and SMBs each week. Join oGoing today, and boost the small business: Join Now
"I am excited about the growth of oGoing Small Business Social Network," said Sanjay Dalal, founder & CEO of oGoing. "I re-launched oGoing in 2011 with a goal to create an amazing business social networking platform for small business, startups, entrepreneurs, owners, service providers and SMB. I am happy to share that our membership has grown 500% in 2012, and we are poised to expand faster in 2013."
Key oGoing Product and Business Milestones in 2012:
1. oGoing launched Business Needs wherein small business members can express and post their pressing needs. Over 1,000 needs have been published on oGoing.com since the introduction.
2. oGoing introduced New Business announcements feature. New oGoing member business is announced and promoted to the entire oGoing community and on the oGoing.com website. Go to http://ogoing.com and connect with new businesses.
3. oGoing announced oGoing Pro Business service. Members can upgrade their free membership, and become an oGoing Pro Business for only $39 a month, and get increased social media exposure immediately. Learn more about oGoing Pro service here.
4. oGoing launched YouTube video sharing within oGoing updates. Members can simply copy and paste YouTube video links within the oGoing updates, and voila... YouTube videos become part of their message promotions. Members can playback videos within the oGoing environment. Hundreds of videos have been shared since YouTube integration.
5. oGoing introduced $99 social media marketing boost service that promotes specific advertisement or promotional message twenty-five times on oGoing.com, Twitter, Facebook, Google+ and LinkedIn. This affordable service provides tremendous online exposure to small businesses who need immediate social media impact on a tight budget. Learn more here
6. oGoing founder & CEO Sanjay Dalal expanded the monthly Social Media Bootcamp Workshops, and provided free training to small businesses at the Microsoft Store in South Coast Plaza, Costa Mesa. Hundreds of local businesses benefited from this training program. Dalal hosted two Social Media Mixers in Orange County for local entrepreneurs and owners. Dalal is hosting new social media workshops for small business at the Microsoft Store in 2013. Register here
7. oGoing announced the Business Social Network App for the iPhone, iPod touch and iPad. The new industry-first business social networking app empowers any small business to connect, network, share, promote and grow using innovative social media. Download the amazing app here
oGoing team is looking forward to growing and expanding oGoing membership 1000% in 2013. oGoing has partnered with Vocus to increase the exposure of oGoing small business network. oGoing team is planning to launch an exclusive iPad app, introduce an industry-first business social network app for the Google Android platform, further integrate oGoing with LinkedIn and Google+, expand integration of oGoing with Facebook, and grow oGoing presence on Windows platform.
oGoing team wishes our social network members, connections, followers, fans and contacts Happy Holidays and Happy New Year!