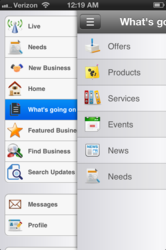 "I am on a mission to connect 10 million small businesses on oGoing.com. I invite all owners, entrepreneurs, startups, SMBs and professionals to download our amazing app. You are going to love it." Sanjay Dalal, oGoing Founder
Irvine, CA (PRWEB) December 20, 2012
oGoing launches an industry-first social networking app for business on the iPhone, iPod touch and iPad.
"Members instantly promote their products, share their latest deals and services, post their news and events, express their business needs, and connect with thousands of potential customers on our amazing oGoing business social network app," said Sanjay Dalal, founder & CEO of oGoing. "Our new iPhone and iPad app provides businesses and professionals a powerful social media network to connect, promote, share, engage and grow!"
oGoing.com is USA's leading social network for business networking, social media marketing and lead generation connecting members to tens of thousands of potential customers.
oGoing.com is the business social network to engage with new and existing customers, create loyal relationships, and jumpstart sales using the latest social media. oGoing is the Business Matchmaker.
Why are iPhone and iPad users downloading and using the amazing oGoing app? Here are the 7 reasons:
1. oGoing app is very easy to use, and free to join. It only takes two minutes to get started.
2. oGoing app is made for business. Members find new customers, and connect with them instantly.
3. oGoing app markets your business. Members promote their products and services to thousands of potential customers.
4. oGoing app helps businesses do more. Members find new referrals for their business, and post their business needs now.
5. oGoing app enables members to talk more and share real-time updates about their business offers, news and events.
6. oGoing app powers the social media brand. Members can promote their updates and share their profiles on Facebook, Twitter, LinkedIn, Google+
7. oGoing app grows the business. Members expand their local contacts, generate qualified leads and boost their sales.
Who should download the oGoing app?
Business owners, small businesses, entrepreneurs, professionals, startups, SMB, marketers and service providers looking to network, share and grow their business, and beat the competition.
oGoing.com connects tens of thousands of members in over 60 business categories including:
Business Services, Marketing & Advertising, Consulting Services, Financial Services, Construction, E-commerce, Fashion & Apparel, Health Care, Education, Entertainment, Real Estate, Retail / Shopping, Software / Internet, Home Improvement, Technology, Transportation & Delivery, Manufacturing, Legal & Law, Insurance Agent, Events Activities & Planning, Mobile Apps, Wholesale, Distribution, Accountant & CPA, Attorney, Travel Agencies & Services, Career Coach, Nonprofit, Repair Services, Self Improvement, Automobile, Clean Technology, Agriculture, Restaurants & Food services, Chiropractor, Home and Office Cleaning, Writer & Copywriter, Professional Engineer, Business Broker, Search Engine Expert, Education Technology, Energy, Green, Fitness & Yoga, Music & Arts, Government & Military, Sports Coach, Wealth Manager, Wedding Planner, Dentist, Graphic Designer, Mortgage Broker, Nutritionist, Personal Trainer, Photographer, Recruiter, Hotels & Motels, Real Estate Agent
About oGoing.com: oGoing is USA's leading business social network for entrepreneurs, owners, professionals, service providers, startups, small business, SMB and growing businesses. Learn more