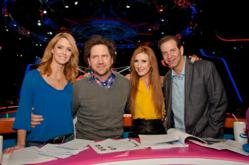 405 Productions is about taking simple, fun entertainment ideas and expanding them to their limits.
Los Angeles, CA (PRWEB) August 15, 2012
The exciting new company, 405 Productions Inc., is coming straight out of the gate with a major summer offering, Oh Sit! The show is the brainchild of Richard Joel and Deena Dill who join forces with industry veteran, Phil Gurin of The Gurin Company to produce the show. Joel, Dill and Gurin, all serve as creators and executive producers. The show is set to premiere in prime time on the CW tonight, Wednesday, August 15th at 8/7c. Check local listings.
Oh Sit! is a fun, high-stakes, high-octane musical chairs competition, in which 12 thrill-seeking daredevils race head to head through five physically demanding, obstacle course-style eliminations as they each compete to claim a chair. All this to the sounds of a LIVE band. Oh Sit! is hosted by actor/comedian Jamie Kennedy (Scream, The Ghost Whisperer, Malibu's Most Wanted), Jessi Cruickshank (MTV), and Tanika Ray (Extra) and features musical performances from bands including: Far East Movement, Outasight, and Orianthi to name a few. Physical production for Oh Sit! took place in front of a large, LIVE audience over three stages at Sony Studios in Culver City.
405 Productions, Inc., was founded by company President Richard Joel as a development and production shingle. Joel has assembled a core team of stellar creative executives, including veteran show-runner and creator Adam Matalon as Executive Vice President, executive producer and creator Deena Dill as a 405 executive and Tom Novak as a senior development executive. When asked about the company's name Joel explained "When we started this adventure, we spent so much time in our cars on the 405 freeway that we called it our mobile headquarters and 405 Productions just stuck!"
Joel and Matalon are leading the team as they build a young company with ambitious plans and a deep knowledge of the industry. Together, the team has produced or creatively contributed to major brands across the industry. Covering the gamut from game shows to documentaries, food to children's brands including Sesame Street. They have been involved in delivering content to such networks as A&E, the CW, History, Nickelodeon, Disney, TLC, ABC, NBC, CW, ITV, BBC, Food Network, DIY, HGTV, Lifetime, PBS, Discovery, and National Geographic Television.
Adam Matalon, who is concurrently show runner and EP on Billy The Exterminator for A&E says, "We are focused on the creative development process but our personal experiences in 'making the donuts' and delivering content to major networks will allow a comfort level as networks entrust us with projects." Joel added, "Obviously, as a new company we have a lot to prove, but we know our existing professional relationships, our ability to partner with established brands and our collaborative environment will quickly allow us to gain traction."
"We're about taking simple, fun ideas and expanding them to their limits," added Deena Dill. In addition to producing, Dill is also an accomplished actor recurring on well-known shows such as Nickelodeon's iCarly and ABC's Suburgatory.
Joel says, "We're excited that someone like Phil Gurin believed in our vision of Oh Sit! and that Gurin made the move to take it to the CW, a network that is not known for game shows." In addition, Joel says " it was great working with the CW and Warner Horizon on Oh Sit!."
As the company looks to the future, 405 is already signing talent, developing original content as well as acquiring existing formats.
405 Productions, Inc. is represented by APA Talent and Literary and the law firm of AGMB.