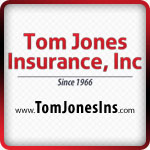 Millersport, OH (PRWEB) March 07, 2013
Tom Jones Insurance knows that consumers often find shopping for insurance confusing and that making decisions about the right coverage for their particular situation can be hard. Insurance provides an important safety net for families, their homes, cars and businesses. The agency is committed to providing clients with service, information and techniques to help them feel confident and secure about their choices.
Shopping online at the click of a mouse gives consumers a way to get information quickly so they can make knowledgeable choices and find reasonable solutions to their insurance needs. Tom Jones Insurance has designed an interactive website to fit the needs of these consumers, offering information and services from a secure, trusted company. The site's blog section can help consumers better understand insurance issues and give them a one-stop place to get information, especially about Ohio auto insurance.
Here consumers also can find updated information through in-depth articles about the insurance industry to help keep them up-to-date on issues affecting them as policyholders. Other areas offer access to specialized forms, agency employee profiles and a glossary of terms to help them better understand insurance planning. Visitors to the site can easily get an auto insurance quote. In addition, customers can also submit requests online for policy changes, to make payments or to file an insurance claim.
Customers have access to a variety of choices, customization, and real-world options at the web site. Tom Jones Insurance believes that insurance shouldn't be a frustrating process. The agency helps consumers craft a personalized insurance plan that meets their individual needs. Not everyone can become an insurance professional, but consumers can become better educated about their choices. Visit the site at http://www.tomjonesins.com to learn more.