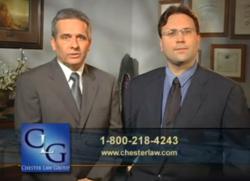 I think it's important that Ohio doctors who treat injury victims understand the importance of accurate and complete documented medical evidence and the role it plays in the personal injury process.
Akron, OH (PRWEB) November 09, 2012
Attorney David M. Chester and Attorney Vince Kloss were asked to talk to a group of Northeast Ohio medical personnel on Monday November 5, 2012. The group included local medical doctors and other medical personnel. The focus of the talk was on the role of diagnostic testing and its role in helping the doctors to provide reasonable and necessary medical care to victims of car accidents and other injury cases. Reasonableness and necessity of medical care can only be determined once the proper diagnosis is made and many times a proper diagnosis can only be made with diagnostic testing such as ct scan, MRI, bone scans and other tests. Attorney Chester's premise is that in many cases what appears to be over treatment for a soft tissue injury, such as sprain strain injuries, eventually ends up being seen as proper treatment for a more serious injury which could be found down the road by the proper use of diagnostic testing. Attorney Chester also discussed the burden of proof on the medical doctor or chiropractor when showing the injury was from the accident. Many family doctors, specialists and chiropractors believe they must be certain that the injury was caused by an accident, and they are surprised to discover that they must only be more sure than not that the injury was from the accident. Put another way, they must only be at least 51 percent sure. He discussed this confusion around "medical certainty" and how defense lawyers use the confusion to their advantage to deny injured people fair compensation.
Attorney Chester discussed how it benefits the patient for the doctor to perform appropriate diagnostic testing to find out what is really wrong with them. Proper and appropriate diagnostic testing helps lead to a correct diagnosis which leads to reasonable and appropriate medical care which leads to the patient getting back to work as soon as possible. There will be a discussion on how defense lawyers and insurance adjusters argue that medical treatment is not reasonable and necessary because the doctor did not find out what was really wrong with the patient. Attorney Chester also discussed other "red herring" techniques used by insurance adjuster and defense council to discredit family doctors.
Attorney Chester also discussed the latest advancements in diagnostic testing being used on the cutting edge of personal injury law, including diffusion tensor imaging MRI which shows visual proof of brain damage and the cognitive areas of the brain damaged. The test allows the doctor to tie the injury to the part of the brain and the function that brain area performs against the symptoms of the patient. For example, if a patient has slurred speech, and that is controlled by area x of the brain, the dti mri can show damage to area x thus confirming the symptoms are caused by brain injury to that part of the brain that controls that function.
Attorney David M. Chester has been an Ohio personal injury lawyer most of his legal career. From a single office in Akron, Ohio Attorney Chester has built a law firm with 16 offices located around the state of Ohio. Attorney Chester received his Bachelor's degree in Business Pre-Law from Bowling Green State University. He obtained his Doctor of Jurisprudence from Cleveland State University College of Law, where he graduated 2nd in his law school class.
Attorney Vincent J. Kloss obtained his Doctor of Jurisprudence from Cleveland State University College of Law. Attorney Kloss has been a licensed attorney in the state of Ohio for over 20 years. Attorney Kloss came to join the fight against insurance companies with David M. Chester in 2003, where he is currently managing all legal aspects of the firm.
About Chester Law Group Co., LPA
Chester Law Group Co., LPA is based in Akron, Ohio and has 16 offices statewide in Ohio with locations in Akron, Youngstown, Canton, Toledo, Cincinnati, Columbus, Westlake, Amherst, Beachwood, Mentor, Twinsburg, Ravenna, Warren, Medina, Wooster, and Independence, Ohio. Their lawyers handle serious injury claims throughout the state of Ohio combining the resources of a big law firm with the personal attention and care you would expect from a small firm. The lawyers at Chester Law are experienced Ohio Serious Injury Lawyers and Ohio Wrongful Death Lawyers.
Ohio Personal Injury Lawyers
Chester Law Group Co., LPA
Akron, Ohio,
430 White Pond Drive
Akron, OH 44320
330-253-5678
800-218-4243