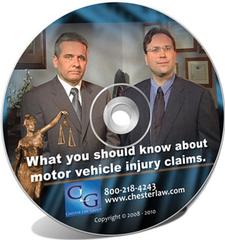 There is a lot of important information that you need to know to protect the legal rights of you and your family.
Akron, OH (PRWEB) November 27, 2012
The DVD enables viewers to get a general understanding of the process needed to settle a personal injury claim in Ohio. The videos in this DVD point out that the personal injury process, whether it is a car or truck accident, or any other type of accident, is a minefield and without the proper legal knowledge can be darn right scary.
Clients and visitors can get this video DVD by going to this page, >>> Free DVD, on their website and filling out a simple form.
The free DVD is the latest offering from Attorney David Chester, as he has already made his free books "The Insider's Guide to Handling Ohio Accident Claims" and "Losing Someone You Love", available to his clients and visitors on his video website http://www.ChesterLaw.com. Attorney Chester has made these free resources available out of his desire to have the residents of Ohio aware of their rights after an accident. David stresses the importance of knowledge when it comes to making claims with the insurance companies after an accident. Any person who has been involved in an accident and received injuries, but was not at fault, may find this information very useful.
The Chester Law Group is offering this information with major 3 goals in mind:
1. To explain what legal services Chester Law Group Co., LPA offers.
2. To explain to Ohio residents in simple to understand language, what the personal injury claim process is and what their legal rights are.
3. To help give Ohioans peace of mind that Chester Law is there to help them negotiate the personal injury claim procedures that they should be following from day one.
The DVD is divided into sections explaining the Ohio personal injury claim process. It details the key participants, such as auto insurance adjusters, medical providers and health insurers, while Attorney Chester also relates his own story of why he became a personal injury lawyer. He was a victim himself. The DVD can be watched straight through or if someone prefers they can select a particular section or sections of interest to watch.
The videos discuss the medical providers who care for the victims of an accident, and the process through which the private and government health insurance providers pay for the care that is needed. It is important to know that these various private and government health insurers will want to be reimbursed once the claim is settled. It also provides the answers to many of the questions that have been asked relating to accident claims for Ohioans. The DVD has a very in-depth Frequently Asked Questions section. The videos also address the need to hire an experienced Ohio personal injury lawyer by pointing out that the role of the lawyer is much more than just getting the client money.
The DVD, as well as the free books can be obtained or accessed through the Chester Law website. The lawyers at Chester Law are experienced in the area of Ohio personal injury law and they have combined their resources to give their clients the assistance they need during a personal injury claim. They are dedicated to their clients and will fight to protect their rights.
The lawyers at Chester Law are experienced Ohio Truck Accident Lawyers.
Chester Law Group
Offices Across Ohio
Main Office:
Chester Law Group Co., LPA
430 White Pond Dr.
Akron, OH 44320
330-253-5678
800-218-4243