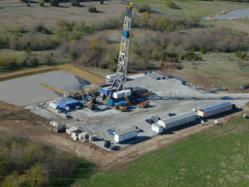 We plan to have over 100 wells within the next 18 months
Bartonville, Texas (PRWEB) March 02, 2013
Payson Petroleum, Inc. has recently acquired a position in an additional 3 wells that are currently producing oil and gas. This takes Payson's total wells in production to 52. These wells are all located in Texas and Kansas.
"Here at Payson, we are grateful that 2013 is already off to a great start. We plan to have over 100 wells within the next 18 months," said Matthew Griffin, the CEO at Payson Petroleum, Inc.
Payson's chief end and basis for success is to drill successful domestic wells to generate energy independence for America. They achieve this goal by drilling in highly proven areas and mitigating their risk by deploying the best possible team for each project.
Payson works with independent investors by allowing them to participate in industry standard drilling programs. Programs like this allow for investors to make a great potential return on investment, and they also go a long way toward the end goal… allowing America to become independent from other nations when it comes to oil drilling and oil investing.
Payson Petroleum, Inc. has always set the industry standard for providing drilling opportunities for the "independent investor." Payson Petroleum, Inc. has been able to separate itself from all other competitors by providing deals for these independent investors that are rarely, if ever, seen anywhere else within the private sector.
By targeting accredited investors and streamlining the process, Payson Petroleum, Inc. has been able to provide excellent oil investing services to all of its clients. In addition, investors are also able to enjoy some nice tax advantages.
"As Payson Petroleum's Landman, I'm excited about the acquisitions and opportunity for continued growth," Jordan Red - Landman.
Payson Petroleum, Inc. is located in Bartonville, Texas which is part of the Dallas – Fort Worth Metroplex
For more information on oil investing with Payton Petroleum, please visit their website http://www.paysonpetro.com. You may also contact the company's CEO, Matthew C. Griffin, who started in the oil business in 1997 and also has an extensive real estate background, by calling toll free (940) 455-5555, or by emailing him at pr(at)paysonpetro(dot)com.
About Payson Petroleum, Inc.:
Payson Petroleum, Inc. provides the best industry quality project for independent investors in the market. Independent investors rarely see these deals, and when they do, the deals are often so over-priced that it weakens an investor's return on investment. Payson has decades of team experience in evaluating drilling opportunities coupled with the use of today's cutting edge technology; therefor they know they have something truly special to offer the independent oil and gas investor that has yet to be matched in the marketplace.
Payson Petroleum, Inc.
2652 F.M. 407 E. Suite 250
Bartonville, TX 76226
Phone: (940) 455-5555
http://www.paysonpetro.com;