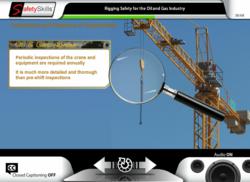 Oklahoma City, OK (PRWEB) September 28, 2012
noodleStream.com, the maker of SafetySkills® has announced eleven additional SafetySkills® training courses specific to the oil and gas industry. These titles include Spill Response for Oil and Gas Personnel, Chainsaw Safety for Oil and Gas, Rigging Safety for the Oil and Gas Industry, Substance Abuse Training for Supervisors in the Oil and Gas Industry, Accident Prevention Signs and Tags in the Oil and Gas Industry and more. Additionally, SafetySkills® is now the exclusive Online Safety Training eLearning partner to The American Petroleum Institute deploying state of the art, web based, EHS training targeted at oil and gas activities through API's online training program. The SafetySkills® teams consists of EHS specialists, Instructional Systems Designers, and software engineers to assure that companies receiving the training keep customers in compliance but more importantly keep their learners safe. SafetySkills® has an impressive oil and gas specific series of online safety training courses being used by some of the world's most innovative oil and gas companies. SafetySkills® has also developed online pipeline simulations that feature a hands on experience with proper lockout/tagout procedures by requiring learners to choose the correct valves to lock, tag and activate in a pipeline system. The SafetySkills® team has designed, developed and deployed a powerfully easy SCORM-compliant learning management system with nearly 300 courses. Their customers vary from oil and gas companies, municipalities, healthcare, food service, manufacturing, biotech, insurance companies and more.
SafetySkills® courses provide a front of the seat safety training experience. Courses include 3D animations, simulations and complex navigation structures designed to demonstrate the concepts, engage the learner and ensure comprehension and retention of the course materials presented. All of SafetySkills® courses and learning management system are designed, built and maintained here in the United States.