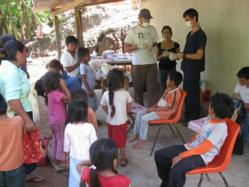 To us, it's what we should be doing—helping people who have no hope.
Kelowna, BC (PRWEB) November 15, 2012
When husband-wife dental team Debra Matson and Jonathan Visscher arrive at a remote village school carrying suitcases stashed with toothbrushes and dental tools, there are often hundreds of townspeople waiting outside, palms gripping jaws that have been sore for years. In October 2012, Matson and Visscher returned to Myanmar (Burma)—during the ongoing civil war—to help bring back the smiles of the people in the ravaged country.
"Everyone is in pain. Every mouth has rotten teeth," said Visscher, who has been to 8 third-world countries since 2009 along with Matson, his wife and dental clinic partner at Okanagan Smiles. Through an organization called New Reality International (NRI), the couple travels more than twice a year to communities in Asia and South America where there are no dentists.
While in Myanmar, Visscher and Matson traveled to temples and schools, where they pulled and cleaned the teeth of hundreds of people, including a five-year-old girl. "She just walked right up on her own and pointed at the tooth she wanted out," said Visscher, currently the NRI president. "Later on, I saw her in her family's hut and I knew the numbing had worn off by then, but she smiled big and showed me where she lived."
It's the kids NRI hopes will be most impacted by the mission trips Matson and Visscher attend. Traveling in groups of about 10 dentists and doctors from across North America, the couple's first goal is to get everyone in the line-up out of pain. Then they show people how to brush and take care of their teeth.
"We've seen some really great changes going back to Guyana, for example. Now when we return, we can focus on restorative dental work like fillings," said Matson. She and her husband have also been on initial and repeat missions to Mexico, Guyana and Haiti, home of Okanagan Smiles' first trip three years ago.
Since then, the Kelowna dentists, still in their thirties, have made thousands of mouths smile around the world. Taking time out of their own busy dental practice—Okanagan Smiles is celebrating two and a half years in business—is important to both of them, said Visscher.
"To us, it's what we should be doing—helping people who have no hope."
###
For more information please contact:
Jonathan Visscher
Partner, Okanagan Smiles
hello(at)okanagansmiles(dot)com
http://www.okanagansmiles.com
1-778-436-2828