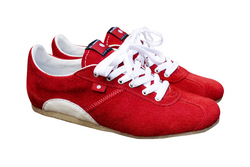 Oliberté is a new revolution showcasing the true potential of Africa. Every time someone buys a pair of Oliberté shoes, they are showing to the world that Africa is more than just poverty - that it is full of pride, power and liberty
Oakville, Ontario (PRWEB) September 14, 2009
Headquarted in Canada, Oliberté has launched the first international footwear company to work exclusively in Africa. Designs for men and women shoes are urban-casual inspired and sold online (http://www.oliberte.com) and in select stores this Fall in Canada and the United States. Initial styles include ROVIA (Men) and ELIKA (Women) which retail for $95-120 are sleek and have colourful pop with Oliberté`s signatures including thin crepe rubber soles and circles throughout designs.
"Oliberté is a new revolution showcasing the true potential of Africa. Every time someone buys a pair of Oliberté shoes, they are showing to the world that Africa is more than just poverty - that it is full of pride, power and liberty," said Tal Dehtiar, Oliberté's Founder and President. "All the attention on Africa is focused on alleviating poverty, but the only real way to alleviate poverty on this beautiful continent is to build a middle class that includes fair paying jobs. The more shoes sold, the more fair jobs will be created at local factories where Oliberté works which ultimately changes lives for the better."
The rubber for Oliberté footwear comes from natural milk from rubber trees that have been tapped in Liberia. Liberia has the largest amount of natural rubber in Africa, but because of decades of civil unrest, it has been difficult to work in this West African Country. Today, Liberia is moving forward and Oliberté is thrilled to work with the country in creating local jobs and the first to process its rubber into natural crepe soles. The shoes themselves are manufactured in Ethiopia which has the largest selection of natural hides in Africa and a growing footwear manufacturing industry. By 2015, Oliberté looks to work in over 10 countries in Africa to source material, accessories and manufacture its shoes that will be sold from Canada to USA to Europe to Australia to Japan.
"If we wanted to make cheap shoes, we'd simple go to Asia, but this is NOT about cheap shoes or labour. This is about premium quality and fashionable footwear that creates fair paying jobs in the poorest countries of the world. Pride. Power. Liberty. This is the real Africa. This is Oliberté." -- Tal Dehtiar
Launched in 2009, Oliberté Limited is headquartered in Canada and founded by Tal Dehtiar, who, in 2004, launched the international charity MBAs Without Borders (MWB) that supports small businesses in Africa, Asia and Latin America. MWB was recently acquired by CDS Development Solutions but for his work, Tal was recognized with the International Youth Foundation Social Entrepreneur of the Year Award and nominated for the YMCA Peace Award, Canada's Top 40 Under 40 and Ernst and Yong's Social Entrepreneur of the Year.
# # #