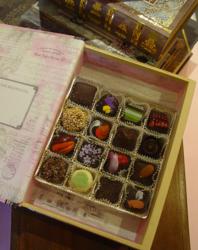 "Books and chocolate are my two favorite things, and pairing them together is a wonderful way to say 'thank you' to mom. Nothing makes a woman happier than time alone with a good book and a box of Oliver Kita Chocolates" - Suzanna Hermans, Oblong Books
Rhinebeck, NY (PRWEB) March 26, 2013
Rhinebeck, New York….As a Rhinebeck, New York mom of two put it, "there is absolutely no greater gift for a mom than a good book and a box of high-end, out-of-this-world chocolates." Like many moms, she has found her book club to be a place of respite. "It is probably the only time I get to relax and have the opportunity to share some delicious treats with other women while we engage in really great discussions, leaving me totally recharged."
For Chef Oliver Kita, the choice of a featured Mother's Day gift was fairly obvious. Aware of the passion that segment of his clientele has for both books and for chocolates, he launched a new product line this year: The Mother's Day Book Collection. The gorgeous "faux book box" holds a collection of chocolates made especially for moms; Violet Twilight, Jasmine Voile, Orange Mimosa and Living Rose are examples of exquisitely painted, luxurious confections with complete wow factor for her on Mother's Day. "In addition to using ingredients with floral aromas and flavors, always mindful of staying true to our commitment to providing organic, fair trade, and even vegan lines, this gift provides women with a lovely box that can be used for jewelry, cards, or something special when they have finished enjoying the chocolates," shares Chef Kita.
Owner of Oblong Books and Music, Suzanna Hermans, also had this to say about the new Mother's Day products: "Books and chocolate are my two favorite things, and pairing them together is a wonderful way to say "Thank you" to mom. Nothing makes a woman happier than time alone with a good book and a box of Oliver Kita Chocolates."
The Mother's Day collection is now available online at oliverkitachocolates.com or by visiting his studio in the quaint, historic village of Rhinebeck in upstate New York.
A graduate of the Culinary Institute of America, also located in New York's Historic Hudson Valley, which is also home to his chocolate studio (located in the quaint village of Rhinebeck), Oliver has received diplomas from L'Ecole Lontre, Paris; L'Ecole du Grand Chocolat Valrhona, Tain L'hermitage; and Academy du Chocolate Barry Callebaut of Montreal. Formerly a pastry chef at the legendary Russian tea room and a scholarship award-winner for the Beringer Vineyard School for American Chefs in the Napa Valley, Oliver now shares his passion for cooking and baking with chocolate aficionados from all over the world with organic chocolate bars, vegan chocolate bars, fair trade chocolates, corporate chocolate gifts, chocolate lectures, and a beautiful chocolate shop for all to enjoy.
Oliver Kita's work has been recognized in publications such as Bon Appetit, Denver Post, Chronogram, New York Times, Yoga Journal, among others, and he has been highlighted on NBC's Today Show for four straight years. For more information on his commitment to bringing fair trade and organic chocolates to the masses, or to see a selection of corporate chocolate gifts, vegan chocolates, organic chocolates, and the like, please visit oliverkita.com.