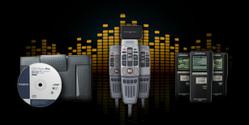 Digital dictation is the ideal solution to streamline case management for the typical law firm.
Center Valley, PA (PRWEB) January 27, 2012
Olympus, a named recognized around the world for its superior audio recorders for more than 40 years, will showcase its Professional Audio line of digital dictation technology at the nation's largest legal technology trade show, LegalTech®, from January 30 through February 1 in New York, NY.
Olympus is a global leader in developing innovative dictation systems designed to be the 'go to' communication tools for delivering quality, efficiency and security. Serving as the premier digital dictation brand in the legal industry, Olympus' representation at LegalTech® will render valuable insight on the latest technology available to benefit legal professionals.
Legal industry professionals are better positioned to meet their productivity goals, thanks to Olympus Professional Audio Digital Dictation Systems – a family of technologically advanced products that meets the latest industry standards, and provides total business solutions. Olympus will demonstrate its Professional Audio systems at LegalTech®, and attendees are encouraged to visit Booth 1304 to learn more and see how Olympus digital dictation can be customized to meet the needs of their law firm.
Olympus Professional Audio Commitment to the Legal Industry
The Professional Audio family includes the breakthrough DS series – including the flagship Olympus DS-5000® digital recorder and the Olympus DS-3400® digital recorder which feature USB Mass Storage class, large LCD screen, file encryption and decryption, as well as removable SD memory and PC link capabilities, the Olympus DS-5000iD® digital recorder, which contains a Biometric Fingerprint Lock Function to maintain users' peace of mind with its added security. Furthermore, the Olympus AS-5000® Transcription Kit, which comes with a foot switch, headset, and software. All these products can be integrated into any legal office system to streamline data sharing among attorneys, paralegals and other staff, as well as among departments and different locations. In addition, the products also include the intelligent DSS Player Pro Dictation software.
Each of the Olympus Professional Dictation devices provides optimal dependability and reliability, and offers a stable platform for the future through use of integrated solutions that are ideally suited for taking dictation during a deposition, keeping audio notes, and capturing legal conference presentations.
"Digital dictation is the ideal solution to streamline case management for the typical law firm," says Amy Leslie, Sr. Marketing and Business Development Manager, Olympus Imaging America Inc. "As a major legal dictation technology provider, Olympus understands how critical information security and efficiency are and is poised to meet the demands of legal professionals who rely on us for the most advanced dictation technology and data security possible. We are proud to participate in LegalTech® and demonstrate our commitment to this industry."
About Olympus Imagine America Inc.
Olympus Imaging America Inc. is a precision technology leader, designing and delivering award-winning products for consumer and professional markets.
Olympus Imaging America Inc. works collaboratively with its customers and its ultimate parent company, Olympus Corporation, to develop breakthrough technologies with revolutionary product design and functionality that enhance people's lives every day. These include:

Digital Cameras
Professional and Interchangeable Lens System Cameras
Related Underwater Products and
Digital Media
Binoculars
Olympus Imaging America Inc. is responsible for sales in the United States, Canada, Mexico, the Caribbean, and Central and South America. For more information, visit: http://www.olympusamerica.com.
*Specifications and design are subject to change without any notice or obligation on the part of the manufacturer. All trademarks and registered trademarks listed herein are the property of their respective holders, in the US and/or other countries.
© 2012 Olympus Imaging America Inc.
Contact:
Dina Ramon
LW Marketing
917-969-6668
dina(at)lwmarketing(dot)com
Jennifer Colucci
Olympus Imaging America Inc.
484-896-5719
jennifer.colucci(at)olympus(dot)com
###