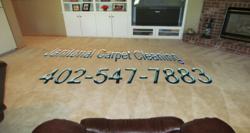 Janitorial Carpet Cleaning is becoming synonymous with affordable carpet cleaning in Omaha
Omaha, NE (PRWEB) March 30, 2013
Janitorial Carpet Cleaning is an internet based cleaning company servicing the Omaha, NE metro area with quality and affordable cleaning services. Establishing their internet marketing campaign with the help of a local content strategist have gained tremendous online visibility and recognition through rigorous web-based advertisements. Providing professional carpet cleaning results to customers at reasonable prices Janitorial Carpet Cleaning is becoming synonymous with affordable carpet cleaning in Omaha. Acquiring clients while keeping attrition rates low by demonstrating hard work ethics, sustaining customer satisfaction and offering a variety of cleaning services which includes:
Residential Carpet Cleaning
Commercial Carpet Cleaning
Steam Cleaning
Janitorial Services and Building Maintenance
Upholstery and Furniture Cleaning
Rug Cleaning
Sanitizing and Disinfecting
Window Cleaning
Rental Property Clean-ups
Still seeing opportunity for service expansion in Omaha and its surrounding areas Janitorial Carpet Cleaning is looking to add more ways to service customers. "As a janitorial service and cleaning company we should be more than what our name says" explains company representative Hopeton Hewett.
He goes on to say "In order to truly expand our business and be the dynamic cleaning service that we envision our selves being, we need to constantly expand on the services we offer and the areas we offer them to. This is the exact reason we are announcing the launch of our mobile auto detailing service."
With providing this new service Janitorial Carpet Cleaning expects to gain an enormous amount of residential and commercial customers. With plans to offer package deals that include carpet cleanings accompanied by auto details Janitorial Carpet Cleaning is positive they will meet their goals and boost revenues. While actively pursuing the title of Omaha, NE most dynamic and creative cleaning service.
About Janitorial Carpet Cleaning:
Janitorial Carpet Cleaning is a professional janitorial and carpet cleaning company servicing the Omaha, NE metro area with affordable cleaning services. Providing customers with supreme residential and commercial carpet cleaning, tile and grout cleaning, window cleaning and janitorial maintenance. With outstanding customer service and affordable pricing Janitorial Carpet Cleaning is looking to give customers more cleaning for their money.
Contact: Hopeton E. Hewett
Phone: 1-402-547-7883
Email: hopeton(at)janitorial-carpet-cleaning(dot)com
Website: http://www.janitorial-carpet-cleaning.com
Address: P. O. Box 31613
Omaha, Ne
68131