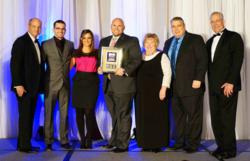 Omaha's Elite Real Estate Group team has adapted cutting-edge technology to its operations, including Smart-Drip Email and eAlerts.
OMAHA, Nebraska, (PRWEB) March 11, 2013
Realtor Jeffrey M. Cohn and his team at Omaha's Elite Real Estate Group broke the record for residential sales in units and overall production at NP Dodge in 2012 with more than 230 sales and $38 million in volume.
Cohn is the leader of Omaha's Elite Real Estate Group, one of NP Dodge's many real estate teams working in the Omaha Metro Area. Founded in 1855, NP Dodge is America's oldest family-owned, full-service real estate company.
Omaha's Elite Real Estate Group consists of a team of 15 real estate professionals who specialize in assisting real estate buyers, sellers, and investors. The group's expertise extends past traditional sales and in to categories such as short sales, REO and bank-owned properties, new construction, property management, land and commercial real estate. Cohn says that their aggressive marketing approach and innovation has helped the team grow business exponentially – more than 300 percent in 12 months – making it one of the top five ranking real estate groups in the Omaha Metro area.
Omaha's Elite Real Estate Group also has offices in Lincoln, Nebraska and Council Bluffs, Iowa. Cohn aims to grow the group to the number one spot over the next few years, and at its current rate of growth it could happen sooner than anticipated. Omaha's Elite Real Estate Group hired 10 new buyer's agents and three customer care staff members in 2012.
Cohn says his team has adapted cutting-edge technology to its operations, including Smart-Drip Email and eAlerts, part of the BoomTown online marketing system utilizing the latest technology and strategies to generate more qualified leads for real estate professionals.
BoomTown recently released a new "Best Fit Leads" feature which allows team members to search their database of more than 5,000 buyers and determine which leads are the 'best fit' for listed homes.
"We film a state-of-the-art video tour of every property we list, whether it's residential or commercial, no matter what the sale price," Cohn says. "We bring in professional photographers, videographers and even provide our clients with their very own stager to assist our clients in staging their property, essentially conditioning it for sale.
"We top that all off with a complimentary moving truck available to anyone who buys or sells with our team."
Cohn adds that in addition to the team's personal and company websites, Omaha's Elite Real Estate Group utilizes social networking including Facebook and Twitter, YouTube, their video blog and more than 100 websites both locally and nationally.
"We spend tens of thousands of dollars every year on Internet marketing alone," Cohn says. "We know that more than 90 percent of buyers go to the Internet to search properties, so we want to be sure they see us and our listings while they're out there."
Omaha's Elite Real Estate Group also offers a real estate search app, compatible with tablets, iPhones and smart phones, for clients and potential clients to search for properties using a variety of different search options and filters. The app makes it easier for anyone with a smart phone, iPhone or tablet to find exactly what they're looking for wherever they are.
This year, searches with these types of devices are up 10 percent from last year, contributing to one-third of the group's monthly website traffic.
"We average around 40,000 visitors to our website each month, which generates about 1,000 buyer leads," Cohn says.
Omaha's Elite Real Estate Group combines more than 30 years of experience, offering a team with all the expertise necessary to meet any real estate need. For more information, visit the Omaha's Elite Real Estate Group website, Email Jeff(at)OmahasElite(dot)com or call 402.957.1116.
About Jeff Cohn:
Jeff Cohn has been active in the Omaha real estate scene since 2006. Cohn has worked with thousands of customers buying and selling both commercial and residential properties. A native of Omaha, Cohn earned a bachelor's degree in Business Administration Education from the University of Nebraska, Omaha. Throughout his career he has excelled as a leader in the industry and has consistently earned the Million Dollar Producer designation every year since 2006.
###