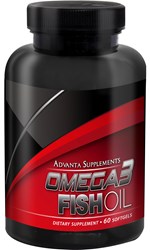 Our process eliminates the bad after taste that is associated with so many fish oil supplements on the market today
Adel, IA (PRWEB) March 19, 2013
Realizing consumers are increasingly concerned about staying in shape and taking charge of their well-being, Advanta Supplements, a manufacturer of vitamins and nutritional supplements, introduces its pharmaceutical-grade Omega 3 Fish Oil. Those interested in health and nutrition now can try aftertaste-free fish oil with a generous buy two, get one free sale on Omega 3 Fish Oil.
Hundreds of respected studies from around the world have praised fish oil as an aid in dealing with chronic pain, cancer, depression, cancer, ADHD, autoimmune diseases, cardiovascular disease and other maladies. Still more people appreciate the impact of fish oil chock-full of omega-3 fatty acids on normal development, cognition, mood and healthy skin and nails.
Despite this awareness, health officials worry that people living in the Western world include too few omega-3 fatty acids in their diet. Many health-conscious people are missing the benefits of consuming omega-3 rich fish because they don't like the taste, smell and texture of fish. With Omega 3 Fish Oil from Advanta Supplements, those unable to consume oily fish as well as those concerned with giving their body a boost can now enjoy all the benefits of fish oil supplements that people want without the "fishiness" they avoid.
"Our patent-pending enteric coating process prevents the nasty aftertaste that can be associated with fish oil supplements," said a spokesperson from Advanta Supplements.
With pharmaceutical-grade Advanta Supplements Omega 3 Fish Oil, consumers can be sure that they are receiving the maximum amount of omega-3 fatty acids. The refining process that produces Advanta's pharmaceutical-grade fish oil ensures a highly concentrated and potent oil rich in eicosapentaenoic acid (EPA) and docosahexaenoic acid (DHA), the two omega-3 fatty acids found in fish oil. Each serving of Omega3 Fish Oil from Advanta delivers an impressive 840 mg of heart-healthy EPA and 560 mg of brain-boosting DHA.
Omega 3 Fish Oil supplements from Advanta have been independently tested and found to be free of mercury. The fish oil also has been tested for PCBs and is guaranteed to be within limits set by Proposition 65, California's strict safe drinking water regulations. Plus, each serving of Omega3 Fish Oil contains the popular antioxidant Vitamin E, which numerous respected studies have found to be beneficial for diseases of the circulatory system, diabetes and many more.
Omega 3 Fish Oil from Advanta Supplements is available through Amazon.com at http://www.amazon.com/Advanta-Supplements-Softgels-Pharmaceutical-Omega-3/dp/B0052N4ROA. A bottle of 60 capsules currently can be purchased for $19.67. Consumers can save 33 percent on Omega3 Fish Oil during a limited time only buy two, get one free promotion.
Located in the heart of Iowa, Advanta Supplements partners with FDA-approved labs to develop, test, and manufacture a line of quality vitamins and nutritional supplements. All Advanta products are made in the U.S. and backed by a complete customer satisfaction guarantee. Learn more at http://www.AdvantaSupplements.com