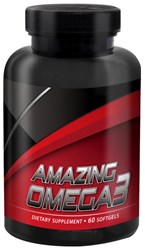 Studies have shown that 300 mg of Omega 3 can greatly reduce inflammation in as little as 30 days.
Adel, IA (PRWEB) May 09, 2013
Men and women looking for a safe, natural and clinically proven way to reduce inflammation and diminish the pain associated with allergy symptoms, asthma, rheumatoid arthritis, knee pain, sinus problems, and other inflammation disorders, can now purchase new pharmaceutical-grade Amazing Omega 3 from US-based manufacturer Advanta Supplements.
Specially formulated to reduce inflammation, Advanta Supplements' Amazing Omega 3 delivers 1,200 mg of Omega 3 per serving, and is certified to be 100% mercury-free. Plus, each capsule is smaller than most other Omega 3 brands, which makes them very easy to swallow. There is also no "fishy" aftertaste, smell or belching that many Omega 3-lovers frown upon.
"Omega 3 is one of the best natural anti-inflammation fighters available," commented a spokesperson from US-based Advanta Supplements, which proudly complies with International Sustainable Fishing Practice Guidelines. "And now, men and women can get the relief they need simply by taking two Amazing Omega 3 capsules with each meal."
Amazing Omega 3 is available for purchase from Amazon.com at http://www.amazon.com/Omega-3-Fish-Supplement-Anti-Inflammation-Pharmaceutical-1200mg/dp/B00CELHFZG.
To mark the product launch, until May 15, 2013 new customers will receive 50% off their first purchase when they use promo code OMEGAADV. All purchases are also eligible for Amazon.com's no-cost "Super Saver" shipping option, and customers can return the product for a full refund if they aren't satisfied with the results.
About Advanta Supplements
Located in the heart of Iowa, Advanta Supplements partners with FDA-approved labs to develop, test, and manufacture a line of quality vitamins and nutritional supplements. All Advanta products are made in the U.S. and backed by a complete customer satisfaction guarantee. Learn more at advantasupplements.com.