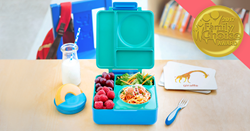 SAN FRANCISCO, CA (PRWEB) June 13, 2017
OmieLife Inc. announced today that it has won a 2017 Family Choice Award for its hero product OmieBox, an insulated hot and cold bento box for kids. As one of the most coveted and family-friendly consumer award programs in the nation, The Family Choice Awards recognize the finest products and services that enrich the lifestyles of children and families. Now in its 22nd year, The Family Choice Awards acknowledged OmieBox for receiving the highest score available from the judges in both the "Babies and Parenting Products" and "Children's Products" categories.
OmieBox is the first bento box for kids that stores hot and cold food together, making it easier than ever for parents to pack healthier school lunches. Kids consume between one-third to one-half of their daily calories at school, so it's important to make those calories count with healthy choices. OmieBox's distinguishing feature is its built-in stainless steel vacuum insulated container that keeps entrées warm until lunchtime. In addition, it has two insulated side compartments for fruits, vegetables or a drink. OmieBox makes it simple for parents to pack healthy, well-rounded meals for school, giving kids the nutrients they need while fostering positive eating habits.
One of the Family Choice Awards judges said, "[The OmieBox is] perfectly sectioned for parents packing healthy portions and appealing in color and design for the kids. I found OmieBox to be completely leak proof and the hot and cold foods stayed at the proper temperature for the required time. This is the one I'll buy for my family!"
OmieLife CEO Nancy Yen was inspired to create the OmieBox after she noticed her son Brad, a picky eater who was underweight and below 10% on the growth curve, wasn't eating more than a few bites of lunch during his first year at preschool. Noticing that he was more likely to eat his favorite hot foods, Nancy searched high and low for something that could store hot entrées as well as cold fruits and vegetables. Frustrated at the lack of choices, she decided to take matters into her own hands and created OmieBox to help kids eat better and healthier.
"We are thrilled that OmieBox has won a Family Choice Award!" said Yen. "On average, parents pack 180 lunches per child each year, so we really wanted to design a product that made mornings easier for them while improving the quality of lunches. It's great to know that OmieBox is making impact, and we're so grateful to Family Choice Awards for the recognition."
OmieBox is BPA-free and Phthalates-free. It is also CPSIA and FDA compliant. OmieBox currently comes in three colors: Blue Sky, Meadow (Green) and Pink Berry. Seasonal favorite Sunshine (Yellow) will be returning this Summer, along with a brand-new color for the back-to-school season (to be unveiled soon).
OmieBox retails for a SRP of $39.50 and is available for purchase on Amazon.com, OmieLife.com and select retailers around the world. For more information about OmieBox, please visit http://www.OmieLife.com and follow us on Instagram and Facebook.
###
About OmieLife Inc.
OmieLife Inc. is a consumer products company that is on a mission is to create innovative products for modern parents. OmieLife's hero product is the OmieBox, an insulated bento box for kids that stores hot and cold foods together, all in one place. To learn more about OmieLife and OmieBox, please visit http://www.OmieLife.com.