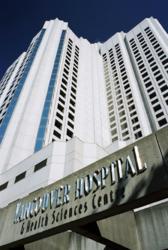 We have found that nasal decolonization using photodisinfection therapy is a safe and effective component in our strategy to minimize the risk of surgical site infections. -Dr. Elizabeth Bryce
Vancouver, BC (PRWEB) May 03, 2012
The abstract being presented today at the AMMI - CACMID Conference titled "Nasal Decolonization of Staphylococcus aureus with Antimicrobial Photodynamic Therapy (aPDT or photodisinfection)" represents interim microbiology data from the year long Quality Improvement Project at VGH. This project is championed by Dr. Elizabeth Bryce, Director of Infection Control at Vancouver General Hospital & Health Sciences Centre and Regional Medical Director, Infection Control at Vancouver Coastal Health. The objective of this Quality Improvement Project is to reduce the incidence of surgical site infections (SSIs) through universal pre-operative nasal and skin decolonization. Studies have shown that killing potentially pathogenic bacteria from the nose and skin prior to surgery results in a significant reduction in surgical site infections.
"We have found that nasal decolonization using photodisinfection therapy is a safe and effective component in our strategy to minimize the risk of surgical site infections. The process of decolonizing patients immediately preoperatively has integrated well into the peri-operative workflow and our compliance is far better compared to traditional outpatient decolonization," said Dr. Elizabeth Bryce of VGH.
Patients are vulnerable to infections when their bodies are weakened by surgery. Studies have demonstrated that surgery patients colonized with Methicillin resistant Staphylococcus aureus or MRSA have up to a 30% chance of self-infection. Patients that develop infections after surgery are five times more likely to be readmitted to a hospital and twice as likely to die. On average, SSIs require an extended hospital stay of eight days in an acute care setting, and add hundreds of millions of dollars in additional costs to the Canadian healthcare system every year.
The MRSAid photodisinfection system is a non-antibiotic, light-activated technology that rapidly eradicates potentially lethal bacteria such a MRSA without encouraging the formation and spread of antibiotic resistance. To learn more about MRSAid, please visit http://www.mrsaid.com and http://www.mrsaidblog.com.
About Ondine Biomedical Inc.
Ondine is developing non-antibiotic therapies for the treatment of a broad spectrum of bacterial, fungal and viral infections. The Company is focused on developing leading edge products utilizing its patented light-activated technology, primarily for the healthcare-associated infection (HAI) market. Photodisinfection provides broad-spectrum antimicrobial efficacy without encouraging the formation and spread of antibiotic resistance. The Company is based in Vancouver, British Columbia, Canada, with a research and development laboratories in Bothell, Washington, USA and Minneapolis, Minnesota. Please visit the Company's website at: http://www.ondinebio.com and http://www.ondineblog.com. For further information please contact us at: Ondine Biomedical Inc. info(at)ondinebio(dot)com