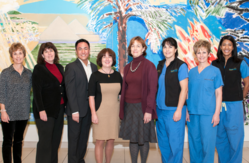 Carolyn Cross, CEO of Ondine Biomedical Inc. stated "It has been a privilege to participate in this quality improvement project and work with such a professional and dedicated group. We look forward to working again with the VGH team to introd
Vancouver, BC (PRWEB) February 28, 2013
In a recent news release, VGH reported the results of the team's year-long quality improvement project that featured the use of the MRSAid Photodisinfection System for the elimination of MRSA and MSSA in the noses of pre-surgical patients. VGH had developed and implemented this novel pre-surgical protocol that included MRSAid and chlorhexidine body wipes for patients undergoing selective major elective surgeries. This universal decolonization protocol generated a significant improvement in overall patient safety, as well as excellent patient compliance, cost savings and workflow integration benefits. It has now been adopted as standard of care at Vancouver General Hospital.
"Congratulations to the VGH team members for this well deserved recognition of not only their results, but their initiative, hard work and commitment to improving patient safety," stated Carolyn Cross, Chairman and CEO of Ondine Biomedical Inc. "It has been a privilege to participate in this quality improvement project and work with such a professional and dedicated group. We look forward to working again with the VGH team to introduce other Photodisinfection based technologies in the future."
The team was lead by Dr Elizabeth Bryce, Regional Medical Director for Infection Control at Vancouver Coastal Health Acute, who has been invited by the BCPSQC to present her work at the Quality Forum 2013 in Vancouver February 28th. Last year, team member Dr. Titus Wong, was awarded the inaugural John Conly Innovation award at the 2012 AMMI-CACMID conference, recognizing a novel and creative strategy to improve patient safety and public health in Canada.
Photodisinfection is a broad spectrum antimicrobial topical therapy that has been proven for decades to instantly and safely eliminate harmful pathogens such as antibiotic resistant superbugs. Photodisinfection was invented in the mid 1980's by Professor Michael Wilson at the Eastman Dental Institute, University College London for the treatment of oral infections and is licensed to Ondine Biomedical Inc. for the application in dentistry.
About Ondine Biomedical Inc.
Ondine is developing non-antibiotic therapies for the treatment of a broad spectrum of bacterial, fungal and viral infections. The Company is focused on developing leading edge products utilizing its patented light-activated technology, primarily for the healthcare-associated infection (HAI) market. Photodisinfection provides broad-spectrum antimicrobial efficacy without encouraging the formation and spread of antibiotic resistance. The Company is based in Vancouver, British Columbia, Canada, with a research and development laboratories in Bothell, Washington, USA and Minneapolis, Minnesota. Please visit the Company's website at: http://www.ondinebio.com and http://www.ondineblog.com. For further information please contact us at: Ondine Biomedical Inc. info(at)ondinebio(dot)com