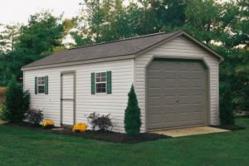 Among the backyard utility sheds there are a number of Used Sheds and Garages available at discounted prices and ready for quick delivery throughout North Carolina
Asheville, NC (PRWEB) June 28, 2012
Liberty Storage Solutions of Salisbury, North Carolina recently announced a "Sizzling Summer Sale" on all in-stock outdoor utility sheds, 1 car garages, gazebos, and pergolas (not including carports). A five percent discount will be taken from the regular price of all metal or vinyl backyard sheds, metal or vinyl prefab one car garages, wooden or vinyl gazebos and kid's wooden swing sets on any of the three sales lots in Salisbury, Cleveland or Statesville, NC. The summer discount shed, prefab garage, gazebo and swing set sale will last from now until the end of the month of July.
Many of in-stock storage sheds, backyard gazebos and swing-sets which are on their three lots are brand new. Some are show models and others are overstock items waiting for a home. Among the backyard utility sheds there are a number of used storage sheds available at discounted prices and ready for quick delivery throughout North Carolina.
Liberty Storage Solutions is a family-owned-and-operated company who has been in the business of producing and selling quality backyard tool sheds, garden storage sheds and prefab single car garages since 2004. They also manufacture a variety of designs of children's wooden swing sets and various sizes of wood and vinyl gazebos. Although not on their website, pergolas are also offered by Liberty Storage Solutions.
Since being in business Liberty Storage Solutions has become a company providing quality and beautiful one car garages in NC, prefab utility sheds, gazebos and swing sets to customers from several states away. The company has grown out of the Amish/Mennonite tradition known for its hard work and enduring quality products. Along with a great work ethic, this tradition also tends to bring a value system of conscientiousness and strives hard to provide good customer satisfaction. With their storage units built on the values of the Golden Rule as well as hard work and excellent workmanship, Liberty Storage Solutions has weathered the tough years of the American economy.
In a time of economic uncertainty as this, Liberty Storage Solutions works to provide their customers with discounts on their backyard storage sheds, wooden and vinyl gazebos and swing sets. Aside from the Sizzling Summer Sale going on right now, they have another, more permanent feature to help make it easier for people to acquire one of these quality sheds and lawn structures. Their Rent-To-Own option is a really great way for people to access Liberty's outdoor sheds by providing a month-to-month payment plan they can easily take advantage of. No credit check is needed, just a valid driver's license or state ID. One may own the backyard utility building with the fulfillment of the 3 year paying plan. However, if the storage shed is only needed temporarily, the payments may be discontinued with no penalties. Liberty Storage Solutions will pick up the shed at no cost to the renter.
Located near the Triad of North Carolina, Liberty Storage Solutions looks forward to providing superior quality prefab one car garages, utility storage barn-sheds, gazebos and swing sets for this area and that surrounding.