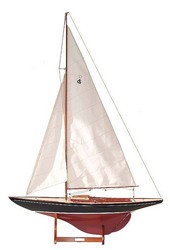 Jupiter, FL (PRWEB) September 6, 2007
Four distinct models of the famous International One Design, IOD Class sailboat racer are now available through Land And Sea Collection. They represent both fiberglass and wood hull construction, and vary in hull color, and sail fabric just like the real boats.
International One Design Class Racer: The classes World Series is being held at the Nantucket Yacht Club from September 9 through 14th. The IOD class has endured throughout the years and is more active today then when it was introduced in 1936 with fleets in Bermuda and Long Island Sound, and totals eleven active fleets world wide.
The IOD sailboat models are true to the real boats down to the last detail. All are built by hand using plank on frame construction, completely finished in four authentic hull and bottom paint colors, and fitted with synthetic or canvas sails and trim. Their dimensions are 25" L x 37" H x 5 1/4" W when on the stand which is included.
Attractively priced at $178.95 plus $18.00 shipping to the lower 48 States, they represent an outstanding value, and are an ideal collectible or gift for sailor or landlubber alike.
For details go: http://landandseacollection.com/id362.html
Jacobs' Fleet of Moderate Cost Hi-Quality Boat Models: In addition to the just launched International One Design - IOD Class, there are full hull models of the Schooners Adventuress, Atlantic, America, two sizes of Bluenose, a Chesapeake Bay Skipjack, the much admired Herreshoff 12.5, the New York 30 and the famous "S" Boat; a Friendship sloop, and S&S's Dorade and Odyssey, the Marshall Sanderling, Crosby Cape Cod and Beetle catboats. And a collection of J Class models which includes Rainbow, Endeavour, Enterprise, Shamrock, each as full models or half hulls.
In motorboats, they offer the Chris Craft's Barrel Back, 1942 Twin Cockpit runabout, a Triple Cockpit runabout, and the 17 foot Utility. In other motor vessels are the GarWood Speedster, a classic 1920 motor yacht, a lobster boat, and a 1926 Dreamboat raised deck cabin cruiser.
On all the models the attention to detail is exceptional and pricing is very reasonable for this level of quality.
For further details on the other boat models go: http://landandseacollection.com/id246.html
The Jacobs Team represents over 100 years of combined experience and expertise in all aspects of the maritime arena and guarantee your satisfaction.
###