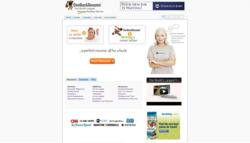 OneBuckResume.com has shown a company growth of 488%, quickly becoming one of th fastest growing internet companies in the US for 2012...
Miami, FL (PRWEB) September 23, 2012
This year has shown propsperity for numerous American-based internet companies, as the resume writing giant, OneBuckResume has released its quarterly figures early this month. The professional resume writing service online has shown a company growth of 488%, quickly becoming one of th fastest growing internet companies in the US for 2012.
The $1.00 resume builder's Vice President, Glenn Mason, said he credited the company's success to its culture.
"Our culture is very much a positive work environment," he said. "We have a positive innovation environment. We love our employees and our clients. That is where the best work will come out. We are also very conscious of the need for well paying jobs."
OneBuckResume has only been in business for 2 years, and has grown exponentially since its launch date. Its website, OneBuckResume.com, currently receives anywhere from 75,000 to 120,000 unique visitors every day. It's easily the largest professional resume writing site found online.
"That is what we refer to ourselves as," Mason said. "Job seekers' habits are changing so quickly. People are multitasking and multi-viewing. Our patented 1 dollar builder has shown better reviews than $99 resume builders. We are constantly curating its functionality in a way that is digestible to the consumer in a way they want."
He said they encourage creativity and can compete favorably with similar competitors across the globe.
"I am very happy that we're getting the recognition that we have in the US and Canada," he said. "I will stack our service up against any competitor, anywhere. Canada is an interesting market for us. There are a lot of really great companies here. It is also a very competitive landscape."
"I am very happy with what we have been able to do in America" he said. "We're looking towards playing on a high global level next."
Michelle Thompson, vice president of client services, said the company's philosophy is a big part of all they have done.
"I really truly believe that these honors come as a direct reflection of the work ethic of our employees and their expertise," he said. "Our primary goal is to help our users succeed, and we treat their job resume as if it were our own. We consult with them, put together a strong plan to present to their potential employers eloquently and spark an action, then we put together great digital products for them."
He said the honors were a reflection of the work.
"That work ethic and expertise bring accolades," he said. "We don't look for them. We don't hope we get the award. We develop this great work and accolades come naturally. It's really nice to receive them and be recognized and respected in our field.
"We have great clients. It's great to have them believe in us and allow us to be very creative. That's also a terrific opportunity."
OneBuckResume employs 55 individuals - 30 are developers, six are designers and creatives, as Mason referred to them. Others do tasks including user testing, sample resume development, quality assurance and accounting.
A tour of their building displays some interesting facts. Looking in from the hallway, it initially appears there may be no one there. It is somewhat dark inside. When you step in, however, there is kind of a glow with indirect lighting. A conference room has a nameplate that says "Thunder."
A couple of treadmills in one area are not the company fitness room. Instead they are a work project. They have created programs for those treadmills to duplicate courses from around the world, including the sights on a screen. Choose a city, perhaps Paris, and you can see yourself jogging through its streets. You can also use a course from close to home that you often travel. On a rainy day, you can duplicate that course on the treadmill and compare your time with those of other days.
In the break room, there are some of the usual amenities - fridge, water cooler, chairs - and a foosball table. But it's not just the standard foosball. As employees play, their moves and scores are tracked and they can compare today's performance with that of last week or last year.
Mason said the company values its employees and encourages them to unleash their creativity.
"We encourage innovation for our employees," he said. "Other places do not let their employees do freelance work, but we do, as long as it does not interfere with what they do here."
At the reception desk, there is a wall of employee photos -- each one with reactions to a bucket of water being dumped on their heads. Mason said there is another similar project under way, but he has not disclosed the details.
"Our very livelihood is based on being on the cutting edge," he said. "If we lose that we are just another agency. We are known for being on that leading edge."
He is on the board of directors for the Society of Digital Agencies, made up of about 70 agencies from around the world.
"We have dialogues to talk about these things," he said. "We spent a lot of time talking about what is coming. We also do countless hours of employment research and analysis, to help users end up with th most impressive resume possible."