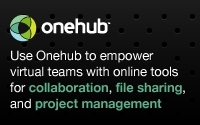 This is an exciting investment decision for all parties, as more and more small and medium-sized businesses turn to SasS collaboration solutions to help them be more efficient, save time and money, as well as increase customer satisfaction
Bellevue, WA (PRWEB) October 29, 2009
Onehub, Inc., a leading provider of web-based collaboration and file sharing software, announced today that it has secured $1.3 million in Series A financing from venture capital firm, Ignition Partners, and several prominent angel investors.
Onehub also announced three appointments to the company's board of directors - Richard Fade, who spent 16 years at Microsoft Corporation in several leadership roles including serving in the executive staff as a division level vice president; Doug Henrich, whose career at Microsoft spanned 11 years where he served as a General Manager; and David Anastasi, who recently served as the Chief Executive Officer of Captaris before it was acquired by OpenText.
"This is an exciting investment decision for all parties, as more and more small and medium-sized businesses turn to SasS collaboration solutions to help them be more efficient, save time and money, as well as increase customer satisfaction," says Onehub Chief Executive Officer, Charles Mount. "Our venture capital partners along with the technology experience of our new Board members, position Onehub for exciting next chapter in the company's growth in the on demand collaboration software market."
Since its launch, Onehub has been providing customers with tools for online collaboration,large file transfer and an ftp replacement solution. Today, over 35,000 business users rely on Onehub to help them work smarter and more efficiently; as well as connect them to customers, coworkers and partners around the world.
About Ignition Partners
Ignition Partners, is a premier private investment group with offices in Bellevue, Washington and Shanghai, China. Ignition Partners' affiliated family of funds includes Ignition Ventures and Ignition Growth Capital in the U.S. and Qiming Ventures in China. The investment group's three categories of funds - early stage venture, growth capital and China ventures -brings together an unparalleled combination of domain focus, functional expertise and global operational experience with partners from leadership positions at Microsoft, McCaw Cellular Communications, AT&T Wireless, Cisco, Starbucks and other industry leaders.
About Onehub, Inc.
Onehub is the world's most flexible cloud collaboration service that empowers virtual teams with online tools for collaboration, file sharing and project management. Onehub allows companies to easily create custom intranets or extranets in just a matter of minutes. Onehub is a privately held company founded in 2007 and is headquartered in Bellevue, WA.
###