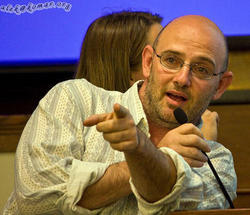 Between the presentation, Q and A, and all the networking, the Boulder/Denver New Technology Meetups provide the perfect forum for honest feedback from a large pool of very talented and seasoned professionals
Boulder, Colo. (Vocus) February 12, 2009
As the economic recession deepens, the community support among technology startups in Colorado is stronger than ever. On Tuesday, February 3, more than 350 people crowded into the Wolf Law Building on the Colorado University Campus, to be a part of a growing series of monthly New Tech Meetups. Started and hosted by Robert Reich, founder of OneRiot , a social search engine company based in Boulder, the event offers a place for entrepreneurs, students, hackers, teachers, executives, investors and technology enthusiasts of all ages to network and learn about the companies and technologies being developed in Colorado.
This coming Tuesday, Feb. 17, the New Tech Meetup is expanding into Denver to include a second event at Denver University (DU) and 400 people have already registered to attend. The Boulder group has continued to gain momentum since it started in August 2006 and now boasts an active membership exceeding 2600 new technologists. "Between the presentation, Q and A, and all the networking, the Boulder/Denver New Technology Meetups provide the perfect forum for honest feedback from a large pool of very talented and seasoned professionals," commented Reich. "I'm constantly impressed by the level of support people go out of their way to provide for other local companies and professionals."
Reich was recently honored by Silicon Flatirons, one of the centers for entrepreneurial activity at the University of Colorado, for his work in the Colorado tech community. "New Tech is the nerve center for new technology innovation in Boulder and Denver. It is a place where ideas percolate and entrepreneurial culture prevails. I highly recommend anyone who wants to forge meaningful business relationships to attend," said Brad Bernthal, Associate Clinical Professor, Colorado Law School and Director of Entrepreneurial Initiatives, Silicon Flatirons Center.
About Boulder/Denver New Tech Meetups
The monthly Boulder/Denver New Tech are a chance for technologists and entrepreneurs to present their ideas to a captive audience composed of investors, CEOs, marketing professionals, journalists, hackers and anyone else interested in learning about new technologies in Colorado. They are held in Boulder on the first Tuesday of every month at the Wolf Law Building on CU campus. Five companies each have five minutes to demonstrate their new technology, followed by five minutes for Q&A from the audience. The event is designed to create networking opportunities for anyone interested in new technology. http://www.bdnewtech.com/
About OneRiot
Launched in November 2008, OneRiot is a social search engine that that finds the pulse of the web. Thanks to the constant help of more than two million users, OneRiot makes it easy for anyone to find the news, videos and products that people are talking about right now. Unlike any other search engine, OneRiot prioritizes the internet's information based on its current popularity with real people, which delivers search results that are fresh, friendly, and pulsing with the real-time energy of the web. OneRiot is a privately held company headquartered in Boulder, Colo. with offices in San Francisco. http://www.oneriot.com
Contact:
Courtney Walsh
Director of PR, OneRiot
303.938.3054
# # #