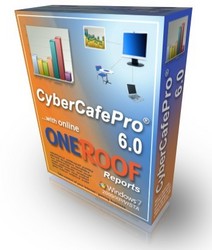 San Francisco, CA (PRWEB) June 22, 2010
OneRoof, Inc. (http://www.OneRoof.com), a company that helps businesses provide Internet and information communication technology (ICT) services to their customers in 175 countries, announced the launch of their latest product release, CyberCafePro 6.0. The addition of advertising support through banner advertisements at the bottom of client desktops has provided the means to make CyberCafePro 6.0 absolutely free – facilitating further worldwide public access to the Internet. Each download of CyberCafePro is also combined with a free 30-day trial of OneRoof Reports – the very first 24x7 online management information service allowing cyber cafés, browsing centers, LAN houses, telecentres, libraries and school computer labs around the world to better manage employees, volunteers, as well as the public's use of the computers.
"CyberCafePro 6.0 is key to expanding global communication and economic opportunity among all people, from every background," said Eric Spector CEO of OneRoof. "Now that we are able to offer our software for free, its widespread use will enhance the sustainability of businesses and public outlets providing Internet access – thus helping enable the survival of locations that contribute to bridging the digital divide around the world," added Spector.
In order to offer customers a solution that fits them best, the optional OneRoof Reports subscriptions are available in three modestly priced plans, all of which are integrated with the free CyberCafePro 6.0. OneRoof Reports is billed in most local currencies, with pricing thus varying by country – and low per capita economies discounted. US pricing for Yearly (Quarterly and Monthly are also available) payments are: Premium (CyberCafePro and OneRoof Reports, with advertising turned off - $192); Standard (CyberCafePro and OneRoof Reports, with advertising turned on - $120); and Economy (advertising turned off on CyberCafePro, no access to OneRoof Reports - $78). A 30 days Premium Trial of OneRoof Reports is included free with all CyberCafePro downloads.
To download CyberCafePro 6.0 and try OneRoof Reports, visit http://www.oneroof.com. For more information, or to speak with a OneRoof representative, please contact Elliot Tomaeno at etomaeno(at)wyndstorm(dot)com.
About OneRoof
OneRoof's social enterprise mission since its 2005 founding has been to 'do good' and 'do well'. Its software (CyberCafePro, and its unique online enterprise OneRoof Reports SaaS subscriptions) provides the information to maximize profits, or capture social metrics to secure continued funding for non-profit telecentres – and in both cases facilitate the sustainability of public access computing outlets that bridge the digital divide globally. The company devotes a percentage of its profits to organizations and nonprofit initiatives that support the extension of public access computing globally. For further information visit http://www.oneroof.com.
# # #