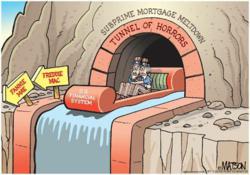 Four versions of a Note, two 'robo-assignments' of a deed, and magically appearing allonge are "indadvertent" says OneWest Bank, FSB.
Compton, CA (PRWEB) April 15, 2013
As foreclosures continue to decline in California, according to the Sacramento Bee, some find themselves in bankruptcy court fighting to save their homes. "In bankruptcy court, the lender must prove they have a right to collect payments from debtors," says Christine A. Wilton of Law Offices of Christine A. Wilton. "In Chapter 13, a homeowner stops the foreclosure and proposes a repayment plan for all their missing mortgage payments."
Attorney Wilton says that in order for the mortgage lender to be paid in a bankruptcy case, they must file proof that they have a claim against the debtor. In the case of Mr. Aldridge, case no. 2:11-bk-55292-VZ, OneWest Bank, FSB filed its proof of claim. According to court documents, the evidence provided in their claim showed no proof they had a legal right to collect payment because the Note and Deed were made payable to another lender. The debtor objected and alleged to the court that OneWest Bank, FSB had a pattern and practice of filing questionable documents in courts all over the country and the Debtor cited In re Arizmendi, a San Diego case. The case was filed in the Los Angeles Division of the Central District of California. The Court converted the Debtor's motion to an adversary proceeding and recently denied his motion for summary judgment.
"We lost the battle, but we may still win the war," says attorney Christine Wilton who is counsel for the debtor in this case. "Evidentiary standards on summary judgment permit evidence to be viewed in a light most favorable to the non-moving party. However, at trial, evidence is weighed in a different light." Attorney Wilton explained this case is now headed for trial because debtor suspects that the loan may be owned by Fannie Mae who does not participate in principal write downs. This means there will be nothing to negotiate in terms of a meaningful settlement. View the motion here and the evidence here and decide whether the bank has filed questionable documents.
About Law Offices of Christine A. Wilton
Consumer protection and bankruptcy lawyers of Law Offices of Christine A. Wilton represent families facing financial difficulties, burdened by debts including taxes, student loans, credit cards, medical bills, law suits, fallen behind on home mortgage payments, or facing auto loans they can no longer afford. The firm has helped clients eliminate student loan debt and helped reduce principal mortgages through the bankruptcy process. The law firm is passionate about helping clients achieve financial freedom from their debts and fights oppressive debt collectors.
For more information please call 877-631-2220 or visit their website http://www.attorneychristine.com/ for a free consultation.