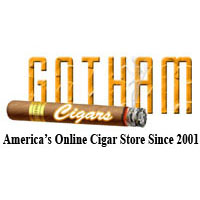 Gotham Cigars offers the finest and freshest selection of filtered cigars. By providing the best customer service, great prices and prompt delivery, this online cigar store has become a trusted leader in the industry
(PRWEB) November 04, 2012
Gotham Cigars, America's online cigar store since 2001, announces $2 off Remington Filtered Cigars from November 7th-13th. These cigars are a great on-the-go smoke that comes in a wide variety of tantalizing flavors. Remington Filtered Cigars use a selective blend of filler tobaccos that makes each one of the flavors including cherry, chocolate, grape, rum, peach, strawberry and many others, a must try. Now with the availability of these cigars for only $11.99, cigar lovers can try all the flavors.
Gotham Cigars offers the finest and freshest selection of filtered cigars. By providing the best customer service, great prices and prompt delivery, this online cigar store has become a trusted leader in the industry. A wide variety of other filtered cigars available at this store are Blackstone filtered cigars, Clipper cigars, Double Diamond and Gambler filtered cigars, just to name a few. Pick any favorite flavor and take advantage of this offer on Remington Filtered Cigars for a limited time.
Gotham Cigars is the best place to purchase discounted, high quality cigars online. By dealing directly with various manufacturers such as Swisher Sweets, Gurkha, Acid, Rocky Patel, Oliva, Drew Estate, General Cigar, Altadis, Davidoff and dozens more, they purchase the best cigars they can find at the lowest prices. They are also a one-stop shop for buying humidors, samplers and tobacco accessories at discount prices. They have a selection of over 150 different styles of premium cigars and 30 different brands of machine made cigars.
Gotham Cigars offers customers one of the country's largest and freshest selections o f premium cigars around. With five-star ratings given by the most trusted online comparison websites for its huge selection, fast shipping and great customer service, they have become the favorite destination for buying cigars online in the US. All the cigars have been thoroughly inspected by their manufacturers prior to arriving at the facility. Gotham is a division of a larger nationwide wholesale tobacco company, which is how are able to maintain a sizable inventory in their facility. To learnmore visit http://www.gothamcigars.com