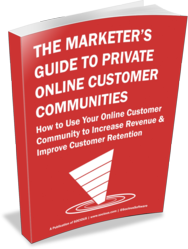 In the past 10 years, marketing departments have transitioned from strictly a business development role to one that touches every one of a business's success metrics. - Joshua Paul, Socious's Director of Strategy and Marketing
Mesa, AZ (PRWEB) March 20, 2013
Online community software company, Socious, published its latest ebook to help large and mid-sized businesses and user groups maximize the impact of their online customer communities. The free ebook, entitled The Marketer's Guide to Private Online Customer Communities, was written to help companies increase revenue and improve customer retention.
The 45-page guide provides marketers with:
# Research on how online customer communities increase revenue
# Tips for using private online communities to convert more leads into customers
# Ways to recruit and maintain better customer references using your customer community
# A blueprint to improve customer satisfaction
"When businesses contact Socious about our online community software, it is usually somebody from the marketing department or a marketing strategist from a customer support group leading the initiative," said Joshua Paul, Director of Strategy and Marketing at Socious.
Marketing has evolves to be at the center of the customer experience both during the sales process and throughout the customer life cycle. In addition, technology budgets and spending on customer-centric online platforms are shifting from the CIO's domain to that of the Chief Marketing Officer. Research firm, Gartner, predicts that marketing departments will spend more on IT than CIOs by 2017.
"In the past 10 years, marketing departments have transitioned from strictly a business development role to one that touches every one of a business's success metrics - from product development to customer retention. Socious's new ebook highlights why no other business strategy has such a measurable impact on product profitability, lead management, and customer retention than private online communities do." continued Paul.
Marketing executives and social business professionals can download The Marketer's Guide to Private Online Customer Communities ebook at socious.com.
About Socious
Founded in 2002, Socious (socious.com) offers the industry's most complete online community software to large and mid-sized businesses, associations, and user groups. The Socious platform includes private social networking, customer communication tools, advanced segmentation, forums, collaboration tools, and a full mobile platform to help organizations increase sales, retention, and member engagement. Take an online tour of Socious online community software.
###