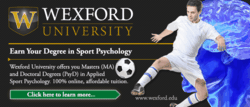 Earning your doctoral degree in applied sport psychology provides you with endless professional career opportunities in the fitness and sports performance fields.
Rancho Santa Margarita, CA (PRWEB) March 16, 2013
Poet T.S. Eliot may have said that April is the cruelest month, but at Wexford University, it's anything but. Spring classes for the online university's doctorate degree in Applied Sport Psychology begin April 1, allowing students to pursue a higher education that can train them to work as a coach, counselor or consultant for nonprofits, sports performance clinics, corporations and more. An online university for both U.S. and international students, Wexford University offers a variety of degree programs of all levels focused on health, wellness, sports and nutrition.
Students interested in an advanced degree in Applied Sport Psychology can learn more or apply online at http://wexford.edu/apply/. Wexford University also offers an online master's degree in the same program.
"If higher education was a part of your New Year's resolutions that you haven't yet achieved, then spring quarter starting April 1 offers a great chance to pursue a doctoral degree in Applied Sport Psychology or a variety of other health and fitness degrees at Wexford University," said Jack Bauerle, Chancellor of Wexford University. "You can reach your educational and career goals and enjoy a career helping athletes achieve greater performance, assisting coaches in developing strong teams and helping fitness enthusiasts of all levels set and reach their health and wellness goals."
The Applied Sport Psychology doctoral degree with information here http://wexford.edu/degree-programs/doctoral-degree-in-applied-sport-psychology/, gives students the opportunity to expand their knowledge and education and perform an internship or special project in the field. Courses are delivered by a team of dedicated sport psychology, personal development and sports performance experts and offer diverse education in coaching principles, counseling methods, group dynamics, linguistics for coaching success, mental toughness, teamwork, the application of psychology and coaching to athletic performance and more.
About Wexford University
Wexford University is dedicated to providing world-class education through cutting-edge technology, offering direct application degree programs in an accelerated format with 100 percent online learning to save time and money. Programs include an associate of arts degree in Fitness Training, bachelor's degree in Health and Fitness, master's degree in Nutrition and Exercise as well as master's degree and doctorate degree in Applied Sport Psychology. Wexford University is the higher education division of NESTA (National Exercise & Sports Trainers Association). For more information, please visit http://wexford.edu/.