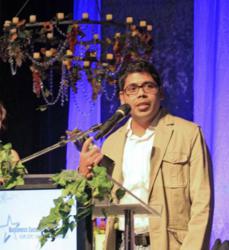 "Our position today has been the result of hard work, innovation and passion for online marketing and advertising technology from the whole team at ROI Media Works. It's great to have these achievements recognized and have our name attached to awards
Kamloops, BC (PRWEB) March 05, 2013
Kamloops' innovative full services Internet marketing agency, ROI Media Works had a stellar 2012 and successfully collected various industry awards. This praise comes after years of diligent work and and the creation of top-notch client business strategies focused on thoroughly understanding client businesses, their challenges, conducting extensive research, and refining online marketing goals.
CEO, Krishna Lakkineni was awarded the coveted Young Entrepreneur of the Year at the 2012 Business Excellence Awards. Hosted by the Kamloops Chamber Of Commerce and TD Canada Trust, the Awards also designated ROI Media Works as a 'Top 3' finalist in the BCLC Technology Innovator category.
These acclaims were followed up by ROI Media Works attaining Gold and Silver at the 2012 Keystone Awards from the Canadian Home Builders Association (Central Interior). The wins were in the Best Web Marketing Project categories and were in association respectively with Nexbuild & Rapid Cool Mechanical. Additionally, ROI Media Works placed in the 10th percentile of the 'Best Company' and the 'Best Online Marketer' categories at the Small Business BC, Successful You Awards.
"Our position today has been the result of hard work, innovation and passion from the whole team at ROI Media Works. It's great to have these achievements recognized and have our name attached to awards that have previously been associated other companies who've garnered great success," said Krishna Lakkineni, CEO, ROI Media Works.
The Business Excellence Awards, which are in their 27th year, recognized Lakkineni for positioning ROI Media Works as a leading online marketing agency that offers Website design & development, online marketing, and social media. The company has quickly been able to adapt the latest online advertising tactics to drive new technology innovations and leverage the growing internet marketing industry presented by boom in technology based solutions. The awards were announced during two ceremonies in 2012. Committees comprised of industry executives, thought leaders, and media experts were involved with the selection processes for nominees, and determined the winners.
"Over the years, our relentless optimism and challenge to try new products and opportunities within our industry has been fundamental to our success," further noted Lakkineni. "The support of friends, family and our incredible team members has been essential over the years in building ROI Media Works into one of the fastest growing Internet marketing agencies. Our entire teams is excited about our growing agency and client projects in 2013 and onwards."
About ROI Media Works
Web development, design and full-internet marketing agency ROI Media Works, offers award-winning capabilities in custom web design, responsive website development, e-commerce and Internet marketing. ROI Media works utilizes an innovative approach of integrated online marketing campaigns that helps clients differentiate, validate their brand, and solve complex usability problems. Founded in 2010, the online advertising agency has delivered custom websites and interactive social media marketing services to clients throughout Canada and the United States. Headquartered in Kamloops, British Columbia, ROI Media Works integrates technology and Internet marketing services to ensure measurable results for clients. For more information about website design and Internet marketing services visit http://www.roimediaworks.com.