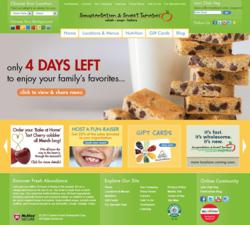 Adapt360's SQL and .Net development team over-delivers
San Diego, CA (PRWEB) March 29, 2012
Garden Fresh Restaurant Corp., parent company to Souplantation and Sweet Tomatoes restaurants was in need of an online ordering system that could process online orders for a roll-out of side-dish items that Souplantation and Sweet Tomatoes would be selling during the holiday season.
At the request of Garden Fresh, Adapt360 developed a custom web application that allowed customers to review side-dish items with a description and photo of each item and enter, modify or cancel orders. While users were placing the order, the order was displaced in the "availability window" with quantity of items and amount as they would add or remove additional items to the order.
"Garden Fresh is a fantastic company to work with," says Paul Smith, President of Adapt360. "They know how, and where to apply technology to improve the customer experience."
In February 2012, Garden Fresh rolled out online ordering for their new Souplantation and Sweet Tomatoes Express concepts. Express concepts differ from the known all-you-care-to-eat experience and are a take-out version of the healthy restaurant concept. The Express concepts transitioned from fax-in orders to online ordering for to-go business. With an average of 15 orders per day per location, the online ordering has been a success for Garden Fresh. Garden Fresh plans on implementing online ordering at all Express concepts moving forward.
"Adapt360's SQL and .Net development team over-delivers" Says Gerry Shukert, Technology Director of IT Systems Development at Garden Fresh. "They understand our needs, develop solid technical solutions and have strong follow-up support. We look forward to continuing our work with Adapt360 for future online ordering systems as we expand our restaurants and our retail merchandise and to-go products"
For more information on Garden Fresh visit http://www.gardenfreshcorp.com. For more information on Adapt360, visit http://www.adapt360.com/net.
About Souplantation/Sweet Tomatoes
Celebrating over 30 years, Souplantation/Sweet Tomatoes was founded in 1978 in San Diego and currently operates more than 122 salad buffet-style restaurants across the western, southern and eastern portions of the United States. Souplantation/Sweet Tomatoes creates an all-you-care-to-eat dining experience with a daily selection of made-from-scratch soups and salads and hand-crafted muffins, focaccia, breads and tasty desserts. By combining high-quality, farm-fresh and scratch-made foods for a fixed price, the restaurants provide guests with the freedom to create their own wholesome meals. The restaurant concept is built around fresh prepared, great-tasting recipes with a salad bar full of seasonal vegetables and tossed salads prepared exhibition-style every 20 minutes. Souplantation/Sweet Tomatoes restaurants are open daily for lunch and dinner and also for a special Sunday Breakfast that features a variety of delicious morning favorites in addition to regular selections.
ABOUT ADAPT360
Adapt360, Inc. is a web and mobile development company serving corporate clients nationwide, with emphasis on Southern California. Projects typically include custom web applications, mobile smartphone applications, database development, and custom e-commerce solutions. Web-based projects involve .NET, PHP and Java programming with SQL databases. Mobile App development projects include iPad, iPhone and Android application development.