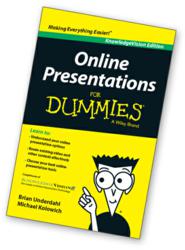 Rich, interactive online presentations are one of the most impactful methods of creating content. We wanted to give readers a complete, foundational resource for creating and deploying these presentations
New York, New York (PRWEB) March 18, 2013
The latest book in John Wiley & Sons' "For Dummies®" series features tips, tools, and techniques for getting business presentations online. Written for everyone who wants to communicate important messages, "Online Presentations for Dummies" provides a beginning-to-end instructional guide for using online presentations, including what they are, why they are used, and how to use them to enhance marketing, sales, training, and corporate communications programs.
For a limited time, "Online Presentations for Dummies" is available as a free eBook download, under a special sponsorship by KnowledgeVision® Systems, the leader in online presentation technology.
To download the book free, please visit http://www.knowledgevision.com/dummiesguide
In "Online Presentations for Dummies", readers learn how to use online tools to create, share, and track online presentations in ways that attract and engage an audience. It covers the gamut of solutions, from simple slide sharing to rich, interactive multimedia presentations, focusing on tools that are powerful yet easy to use.
The book is written by Brian Underdahl, author of more than 90 technology titles, and Michael Kolowich, a former Emmy-winning news reporter, computer magazine columnist, and CEO of KnowledgeVision Systems, the leader in online presentation technology.
"Rich, interactive online presentations are one of the most impactful methods of creating content, but they are still relatively new and evolving," said co-author Michael Kolowich. "We wanted to give readers a complete, foundational resource for creating and deploying these presentations."
An online presentation can range from a simple "flip-through" slide deck to an encapsulated piece of rich media that includes video, slideshows, web pages, footnotes, relevant links, and supporting materials available for download. In "Online Presentations for Dummies", readers find out how to design a strategy around them, what tools are available, and how to streamline their creation and deployment.
"We at KnowledgeVision felt that everyone who communicates online with presentations should have this valuable book," said Lee Phillips, vice president of market development at KnowledgeVision. "That's why we arranged with the publisher to make the first several thousand downloads of the book absolutely free."
Included in "Online Presentations for Dummies" are ideas for using online presentations to drive content marketing campaigns, as well as for creating instructional programs for e-Learning and corporate training. The book also covers how marketers and trainers can set goals and evaluate the success of online content, and like every "Dummies" guide, offers ten important ways to maximize the impact of their presentations.