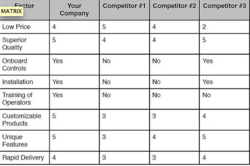 Whenever a business can accurately identify the advantages it has over its competitors, it can price its services accordingly...and therefore add revenue.
Austin, TX (PRWEB) March 13, 2013
Shweiki presents a free webinar by Ryan Dohrn of Brain Swell Media, explaining how publications and small businesses can prepare their pricing strategies to build added revenue. One way for every publisher or sales rep to start gaining extra revenue is by setting up a competitive matrix…
What's a competitive matrix?
The first step in assembling a competitive matrix is constructing a table (through Excel) with the business and its various competition on one side and various attributes/pros/offerings/strengths (things that would draw in clients) on the other. The matrix includes competitive attributes such as multimedia/sales offerings, SWOT analysis (a strategy for evaluating strengths, weaknesses, opportunities, and threats), and price points. Then for a business owner, it's as simple as comparing their attributes with what is hopefully their competitors' lack thereof. One way to do this and find out what the competition is offering is to directly email the competition (maybe from an alternative address) asking for figures, or go to a third party such as a common advertiser to pick their brain to find out what they are paying and what they appreciate about the particular service. Whenever a business can accurately identify the advantages it has over its competitors, it can price its services accordingly. If the matrix shows that a certain owner's services are weak compared to its competitors, the owner can drop the price point (strategically to gain more clients) and therefore add revenue. The opposite applies to stronger matrix models.
Optimizing on Discounts
Many businesses complain that their competitors are continuously offering discounted services. When fighting a competitor's discounted prices, it's important to know what a "discount" really means. For instance, what size is the discount being offered? How long can the competitor keep running this deal? What is the business really getting out of buying a discounted product? If the answer is simply holding onto more money, then an owner or sales rep can track back to their matrix and pitch the client something along the lines of "Yes, by buying a discount you are technically saving money. But don't our competitive advantages make up for that extra amount?" Pricing strategies are detail strategies. Whenever every aspect of the market is taken into account (see the Matrix), a business can show value through specifics, and a successful price point sets itself.
Click here to watch the webinar
Shweiki Media's mission has always been to help publishers improve by providing the most profitable, hassle-free printing experience possible. This includes guaranteeing the highest quality product, exceptional customer service and on-time delivery.
As a printer and publisher of everything from flyers to magazines to postcards and more, Shweiki Media also believes that this hassle-free experience includes making their clients better. Utilizing relationships with industry experts, Shweiki Media strives to educate clients and help them thrive in the exciting world of publishing--while having lots of fun along the way!
For more great info from and about Shweiki Media, please check out shweiki.com, follow us @ShweikiMedia and "like" us at Facebook.com/shweikimedia.