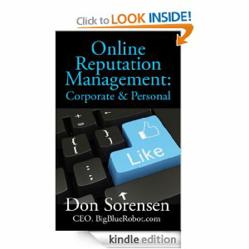 A strong social presence for a brand one of the most important factors in local search ranks
Provo, UT (PRWEB) November 29, 2012
Facebook, Twitter, and Google+ form the 'Triangle of Trust,' the most trusted social media platforms on the web. Major search engines crawl them and use their data to determine page rank. Don Sorensen, online reputation management expert at Big Blue Robot, today released a 'how-to' article detailing how the "Triangle of Trust" can be key to mastering your online reputation position.
"One of the most basic tactics you can execute to improve your online rank and reputation is to leverage the power of the Triangle of Trust," explains Sorensen. "That is, make sure you have a Facebook, Twitter, and Google+ profile set up for your company and make sure that each account links to your website."
Earlier this year, Branded3 conducted a study to find out if social factors had a direct impact on search engine rank. It found that websites that were highly shared on Twitter tended to rank higher in the search results than websites that did not. Specifically, they found the first 50 tweets of a URL had a significant impact in moving a site up in the ranks and that after 7,500 tweets a website was virtually guaranteed a spot in the top 5 search results.
"A strong social presence for a brand one of the most important factors in local search ranks," said Sorensen.
Establishing a Triangle of Trust has proven to deliver the following measurable results:
1) Increased Organic Rank.
As has already been established, keeping and maintaining a strong social presence has a positive impact on rank. If a company's main site is being out-ranked by negative or "scam" sites, creating the triangle can help get the ranking back on top again.
2) Take Up Space in Organic Ranks to Displace Negative Search Results
One of the best ways to fight a bad online reputation is simply to fill up the first page of results with positive links or links to mentions of a company's name elsewhere on the web—like social profiles. In fact, if searching for most large companies today, generally one sees their main site, followed by a number of social profiles. These profile links take up space in the results, pushing anything negative to the second page—crisis averted.
3) Improve Online Reviews Locally
A strong social presence for your brand is highly correlated with positive online reviews and those reviews are one of the most important factors in local search ranks.
The article in full can be viewed at http://www.BigBlueRobot.com.
About Don Sorensen
Don Sorensen is a recognized authority on online reputation management whose expertise and insights have most recently been featured in the New York Times, CIO.com and numerous other industry publications. His more than 25 years of corporate communications and marketing experience for companies including Novell, Hewlett-Packard, IBM, Intel, Netscape, Sun, AT&T, and AOL, are the foundation upon which he built Big Blue Robot, a leader in the online reputation management industry. A frequent presenter on corporate reputation management, his most recent speaking engagements include appearances at the Direct Selling Association, the National Conference on Student Assessment, and the Association of Test Publishers. His book "Online Reputation Management: Corporate & Personal" was published this year and is available through Amazon, an addition to his numerous academic articles. He holds a Communications Degree from Brigham Young University and is a published academic author. In his spare time, Sorensen is an avid mountain biker, triathlete and marathoner.
About Big Blue Robot
Founded in 2003, Big Blue Robot (http://www.bigbluerobot.com), works with corporations and their executives around the world to improve, protect, repair and manage their online reputations. Big Blue Robot has developed state-of-the-art online reputation management strategies for companies doing business around the world, including USA, Germany, Canada, New Zealand, United Kingdom, United Arab Emirates, and France. During the past nine years, Big Blue Robot has helped numerous companies fix their brand reputation and online reputation problems.