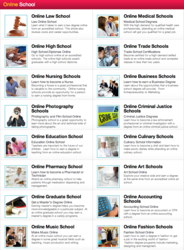 Nearly 25 percent increase in online enrollment over the past four years.
(PRWEB) December 20, 2012
OnlineSchool.com, the leading website providing comprehensive information regarding all facets of online school education, announces the publication of its 2013 Outlook for the Growth and Demand of Online Education.
All major online colleges and universities report astounding increases in the number of students enrolling in online school certification and degree programs. According to The Chronicle of Higher Education, a prominent online magazine source of educational information for university administrators and faculty members, higher learning institutions have announced a nearly 25 percent increase in online enrollment over the past four years—the highest percentage recorded to date. This is counterintuitive to predictions by experts that online education growth would inevitably start leveling off and severely contradicts the results of a yearly survey given to over 2500 colleges and universities by the Babson Survey Research Group and the Sloan Consortium.
Initially, the escalation of online enrollment numbers was attributed to the recession of 2008, the highly competitive job market and the demand for workers who possessed bachelor or master's degrees. However, the sustainability of online school has exceeded early forecasts that predicted its partial demise when the economy recovered. Instead, the public's interest in taking online classes has skyrocketed and is expected to generate enrollment of even more distance learning students in 2013. Even the so-called "brick and mortar" universities and colleges are now realizing that adding more online classes their their programs is imperative to remaining viable in the rapidly changing and digitally enhanced realm of higher learning education.
Perspectives of college faculty members regarding the quality of online education has also experienced an unexpected rise, with the majority of them stating that online classes are "the same as" or even "better than traditional classroom settings". Because technology is continuously inventing new software, applications and platforms with which to provide lessons, lectures and other learning aids to online students, teachers are finding that online instruction is facilitated by the versatility of a virtual environment.
As an excellent and reliable source of information regarding the status of educational resources for adults as well as school-age children, articles and statistics published on The Chronicle of Higher Education website point to a definite shift in the way teachers and students view the ability of online classes to provide the education that is necessary to obtain higher paying positions demanding specialized certifications and degrees. Benefits of taking online classes, specifically the ability to access lectures and assignments when it is convenient for the student, are proving more desirable than traditional learning environments that conflict with work and personal schedules.
Moreover, research concerning the impact on learning and information processing experienced by a generation of young people who have never known a world without computers, internet access and instant communication devices is revealing that individuals born after 1990 are having issues with "classroom and chalkboard" based methods of teaching and learning.
With an apparent shift towards online education away from traditional classroom instruction predicted to shape the educational environment of 2013, the demise of "brick and mortar" schools will inevitably be a decisive factor shaping the future of online schools and the students who attend them. As the quality of online education continues to improve and adapt to the rapidly changing technology exemplifying the digital world, students will be able to experience a stunning variety of teaching platforms capable of enhancing as well as accommodating all individual learning styles and standards.
OnlineSchool.com predicts tremendous expansion in all areas of online learning based on the flexibility, accessibility and affordability of earning a viable degree from an accredited online university. With students now afforded the opportunity to engage in compelling forms of technology-based online learning strategies such as satellite e-learning, electronic whiteboards and video conferencing, the year 2013 will undoubtedly be remembered as the year that online learning emerged as the preferred method for obtaining a higher education degree.