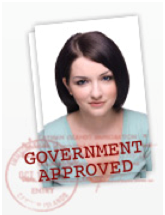 San Francisco, CA (PRWEB) April 25, 2012
Passportica.com has changed the way Americans get their passport photos by launching their online service for creating official photos and combining them with a delivery service. Later this month Daily Deal Site 8Moms.com will be running a national promotion of Passportica to its more than 200,000 members.
The founders of Passportica were becoming increasingly dissatisfied with the available options for obtaining passport photos, which lead them to create an online service. Passportica solves two major concerns for people needing passport photos: it lets consumers control their photo by allowing uploads from smartphones or cameras, and it can be done from the comfort of the home, on-the-go, or just about anywhere making it more convenient than traditional brick and mortar options.
In addition to being an affordable option to consumers, Passportica's ease of use and speedy delivery (most locations in the continental U.S. report delivery times of 2 days) make it stand out from competitors. Its design is based off of strict guidelines set by the United States government to ensure the highest standards for acceptance are met. They also offer a money-back guarantee to any dissatisfied customers, no questions asked. By reducing the risk to their users, the founders of Passportica think that they can become the brand name for online passport photos in the U.S., with plans to expand to other countries in the coming year.
Currently, Passportica's web app is available to anyone with an internet connection, however they'll soon be adding an app for the iPhone, and one for Android phones as well. For more information or to contact the team check http://passportica.com or you can reach them directly on twitter (@passportica).
About Passportica
Passportica is an online passport photo service that lets users shoot and upload a pic of their choice, which is printed and delivered.