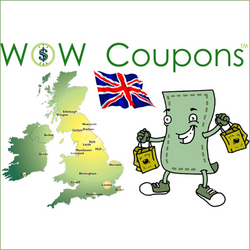 That's me: a busy young business manager with a nose for bargains, a knack for organization, and an energetic son who deserves the best of everything.
Tenafly, NJ (PRWEB) September 25, 2007
Consumers spend plenty during the holiday season, and with tightening budgets, they are spending money where they see the best deals. The fastest-growing source of discount online coupons in the U.S. market has logically moved to expand internationally with the launch of its U.K. sister site - http://www.Wow-Coupons.co.uk , right before the Christmas craze.
Wow Things, Inc. releases http://www.Wow-Coupons.co.uk as a complementary service to U.S. "sister-site," Wow-Coupons.com, a #1 portal for printable store coupons. Despite traditionally low redemption rates and consumer apathy to money-off coupons in the U.K., a recent survey carried out on behalf of Pay By Touch (June 5, 2007 ) confirms that shoppers respond positively to discount programs if they are both highly targeted and convenient to use. In fact, the survey revealed that 88 percent of shoppers would use discount coupons, if these were more focused on their product preferences and were available in store while they were shopping.
Convenience meets up with those looking for savings at national retailers such as ChoicesUK, dwell, Tesco and many others at Wow-Coupons.co.uk. The site also offers printable vouchers for restaurants and for groceries, and for travel to familiar local and international travel destinations.
Wow-Coupons' U.K. shoppers in the United Kingdom receive major discounts and vouchers on a range of products and services, whether they choose to shop in a retail location or online.
"For a working mom, smart shopping can be serious business," said CEO Elena Potoupa. "That's me: a busy young business manager with a nose for bargains, a knack for organization, and an energetic son who deserves the best of everything."
Potoupa began WOW Coupons as a way to make the most of the wealth of savings, concentrating on the retail industry. She currently works as GM for ERC, Inc., leading master agent for AT&T Mobile and Helio Wireless, and she has more than 10 years of finance, accounting, management, strategic planning and marketing experience. In 2005, a complete newbie to affiliate marketing industry, she won a prestigious e-commerce LinkShare Golden Link ''Innovative Affiliate of the Year'' Award.
On WOW-Coupons.co.uk, categories include printable vouchers with Printable Retail, Printable Grocery, Printable Restaurant and Printable Travel Coupons subcategories, as well as Online Coupons. A powerful search tool will help shoppers find exactly what they need.
-- PRINTABLE RETAIL Coupons Section will provide real coupons buyers can take to favorite major retailers and national franchise stores. Shoppers choose the discount, print it out, and go shopping without needing to sign up. The process eliminates clogged inboxes with endless promotional e-mails from dozens of mailing lists.
-- GROCERY PRINTABLE Vouchers Section will provide the grocery coupons users need, when they need them. Print coupons to save on favorite brands at supermarkets and drugstores everywhere.
-- RESTAURANT PRINTABLE Vouchers Section will provide coupons that can be printed out and used to save money at restaurants across the nation. When eating out may seem like an extravagance, think again and enjoy dinner.
-- TRAVEL & ENTERTAINMENT PRINTABLE Vouchers Section will provide discounts and vouchers for diverse traveling destinations whether in U.K. or internationally. Travelers can still afford to take vacations or visit the family. Look for discounts and special deals on everything needed to have a great time. The site has printable travel coupons and offers for car rentals, accommodations, amusement parks, museums and lots more.
-- Just like printable vouchers, the best and biggest retailers and service providers offer ONLINE Coupons and special discounts. The difference is, these can be used only for purchases made online. Browse great offers, go straight to a favorite store (arranged alphabetically or by date posted) to see the latest deals, or look on the navigation menu on the right. When an item is found, follow directions in the description of each coupon. Always check to be sure that savings have been applied before paying for an order.
The streamlined organization raises four flags to guide shoppers:

NEW, for brand-new offers
EXCLUSIVE, for offers available only through WOW Coupons
HURRY, for coupons about to expire
e-SAVE, for unique offers that match a printable coupon with an online coupon for the same store
Wow-Coupons has been especially concentrated on EXCLUSIVE Coupons and Vouchers on their US website, where they partner with merchants to bring deals available only at Wow. The US site has exclusive coupons for over 100 merchants. Wow-Coupons UK has already partnered with 5 merchants and is open for negotiations with anyone who is interested in extra exposure.
Wow-Coupons' U.K. Web site opens up the U.K. market to the idea of a printable vouchers portal as a great way to save while shopping retail, while proving to be a great source of online coupons to save online.
For more information about the offerings and the Web site or to request a media kit, contact Elena Potoupa or visit wow-coupons.co.uk.
About WOW Coupons:
WOW-Coupons US is one of the fastest-growing coupons' sites on the Web. It is a winner of 2005 LinkShare Gold Link "Innovative Affiliate" award. Averaging 250,000 unique visitors a month in 2006 - before the holiday season - and with a steadily growing community of e-mail newsletter subscribers, currently at more than 50,000, it commands positions at the top of the search engines. For customer testimonials, to request a media kit and more information, contact Elena Potoupa at 201-446-5656 or visit http://www.wow-coupons.com. Wow-Coupons.com - Just Print and Save.
CONTACT:
Elena Potoupa
Wow Things, Inc.
12 Cambridge Rd
Tenafly, NJ 07670
PHONE. 2014465656
EMAIL: wowcouponsuk@aim.com
http://www.wow-coupons.co.uk
http://www.wow-coupons.com
###