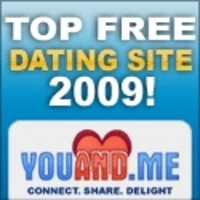 we've eliminated many spammers and we've banned them from the site, as we strive to create the most secure online dating site.
(PRWEB) March 9, 2009
The founders of YOUAND.ME come from diverse countries with backgrounds that span marketing, media, software, cross-culture relationships, and mobile technology. Youand.me has decided to open its doors to all those whom are seeking to make connections for love, friendship, or to find life partners. While not a big company, Youand.me is investing its time and resources in creating the best online dating site, as well as the most personalized social dating experience on the web for its members.
The global recession is affecting everyone, so the team at http://www.Youand.me/ has decided to make the online dating site completely free. Since launching on February 14, the site has already over 10,000 members, which is why YOUAND.ME is one of the fastest growing sites on the web.
Actually, there would have been even more users, according to one of the founders, Steve Sikes, but he states, "we've eliminated many spammers and we've banned them from the site, as we strive to create the most secure online dating site."
YOUAND.ME is big on innovation, personalization, vision, and commitment. The free dating site willl be launching some exciting features soon:
1) Rate-A-Date, which will allow members to rate members after having a "date". This will not actually rate the date, but it will enable members to confirm an "honesty and integrity" check about the rated members. This information will remain confidential and will not be displayed for public viewing;
2) Screen & Secure, which will help filter spammers, scammers, and liars, and will be used in conjunction with its partner/affiliate, a leading verification company for background checks.
3) Compatibility-Local, which will enable members to quickly find compatible matches in their selected or local area.
The YOUAND.ME site also will be completely translated and localized in Spanish, Portuguese, French, Italian and German by March 15. Unlike other sites that use automatic translation for their sites, the YOUAND.ME team went through a lengthy process of engaging not only well-qualified native speakers for the translations, but also finding persons who are vibrant, social, and excited by the YOUAND.ME site and community.
The YOUAND.ME team welcomes citizens throughout the world to join its free dating site. Think Global. Be local. The site speaks the international language - LOVE - and it transcends obstacles and international barriers to connect YOU and ME.
YOUAND.ME - Completely free and completely committed to make YOUR dream come true!
YOUAND.ME will be partnering with Iovation (iovation.com) to create an even securer environment for the dating site and to cut down on potential spammers and scammers. Lovation works with leading social networking sites and it has received kudos for its proprietary technology.
Two leading relationships and dating experts will be contributing articles about
"safe dating", "fantasies", and "gender differences" in the next week.
Right now, YOUAND.ME offers more features - IM, Video Chat, Personality Test, blog, Rate-A-Date, Secure Guardian, Forum, and Compatibility Match and Local Search - than any other free online dating site.
I don't know about YOU, but ME thinks YOUAND.ME is here to stay! It's also the first online dating site to use OpenID - which enables members to transfer their profiles and login info from other sites, such as Facebook, YouTube, Orkut, Bebo, MySpace, Linkedin, Twitter, and many more.
So far, the YOUAND.ME customer base is quite diverse: USA, Canada, UK, Brazil.
Contact:
Steven Sikes
http://www.Youand.me/
VisionSync, Inc
Miami, Florida
United States
(T)305-665-8472 (F)305-675-8524
###