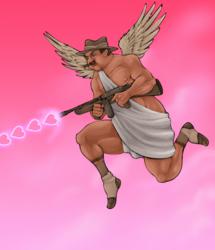 Over 12% of players have found new romance staring at them down the barrel of a Tommy gun
Hull, UK (PRWEB) February 15, 2012
Popular Mafia-themed web-game 'Omerta' conducted a cross-game survey of player's romantic habits and discovered that amidst the many well-known anecdotes of web-gamers finding love, the statistics back up the notion that online Mafiosi are sooner lovers than fighters.
Omerta is a web-game with over 4 million player registrations and users were polled with a variety of questions which produced some interesting results.
According to the poll:
12% of Omerta players 'found love' playing the game while 4% considered the game to have contributed to a relationship ending. A further 10% knew players or ex-players who had hooked up via the game. 3% of users polled said they would 'like to find love' via Omerta.
But perhaps the most staggering statistic of all was that 3% of players claimed that they knew of players who had moved country of residence to pursue a love affair begun in the Gangster game.
So many players are getting hooked up 'IRL' (In real life) that bosses of the popular Mafia-themed online game, Omerta (http://www.barafranca.com) are considering setting up their very own internal dating agency.
Since its inception in 2003, in Groningen, The Netherlands, Omerta has become one of the Web's best-known MMOG's – with over 4 million player-registrations to date – and many of those players have found new romance staring at them down the barrel of a Tommy gun.
Omerta CEO Steve Biddick explains, "Almost since we began, we have known of a great many lasting bonds formed by our players. In the early days one of the original directors of the company left Belgium, where he was living, to live with his online sweetheart – in Canada." That was in 2004, and according to surveys run inside the game so far more than 100k formerly lonely-hearted Omerta players may have found love in this way.
Of course it isn't just staff who have found their true love, but players too – and it is still happening. Omerta is played in 30 different languages as diverse as Frisian and Arabic, including all of the major world languages – but all players are speaking the same language of negotiation and making deals, either for in-game contraband or simply to stave off a war between one of the Mafia families that thrive in the online game.
"We have examples of love being stronger than culture and language – for example I know of a Dutch guy who is currently visiting his Turkish Cypriot sweetheart – met in Omerta. They were part of rival factions but when a turf war broke out they found that it was time to kiss and make up, rather than time to put up or shut up. We don't know if their Padrinos approved! ", says Steve - ''We should re-brand as a dating site!"
With online games more known for ending healthy relationships when one partner is stuck obsessively playing into the small hours of the night while the other waits frustratedly for a cuddle, Omerta is bucking the trend.
Omerta is completely free-to-play, only requires a modest PC with an internet connection, and is currently available in 28 different languages.
Register for the Omerta here: http://www.barafranca.com/?a=60
Players can also register and login using their Facebook details: [http://www.facebook.com/apps/application.php?id=209330669094906
About Omerta
Omerta has been online since 2003 and can rightfully claim to be the 'Godfather of all Mafia games' – and the longest-established and biggest free-to-play, massively multi-player gangster game on the web, having already achieved a number of impressive milestones including over 4 million individual registrations.
Omerta began in 2003 as an amateur project, in a bedroom in Groningen, the Netherlands.
Omerta Game Ltd was founded in 2004 to manage and further develop Omerta. It now boasts full-time staff situated in numerous offices across the world – from Eastern Asia to Western Europe – as well as global network of over 200 volunteers.
Omerta is available in 28 languages. Regional (single-language) versions are available in Dutch, French, German, Portuguese/Brazilian, Turkish and the 'Nordic' languages (Swedish, Norwegian, Danish and Finnish).
Already more than 4.1 million people have played Omerta, with more than 80'000 players logging in every day to live the life of a Mafia don.
###