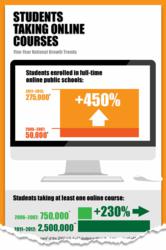 Our goal is to really let parents and students know what they can expect from virtual and blended schools and how they can help support their student's success
Baltimore, MD (PRWEB) March 05, 2013
Enrollment for the 2013-2014 school year has officially begun at Connections Education's affiliated public online and blended schools. Students in grades K-12 have a number of options available at Connections Academy full-time public virtual schools and Nexus Academy public blended schools. Interested parents and students are encouraged to learn more at one of the many in-person or online information sessions offered by the schools. Early enrollment is also encouraged, especially for families new to virtual and blended school.
See more about the growth of online learning across the U.S. with the new infographic – The Growth of K-12 Online Learning.
Connections Academy schools are fully online schools that students attend from home. Connections Academy schools deliver high-quality, personalized education for students that combines certified teachers, a proven curriculum, technology tools, and community experiences—online and in person—to create a supportive environment for children who want an individualized approach to education. Students work with certified teachers online and on the phone while a parent or other adult "Learning Coach" monitors progress in the home. Connections Academy schools currently serve students in 22 states with more schools expected in the 2013-2014 school year. All Connections Academy public school programs are tuition-free, and most serve students in grades K through 12.
Nexus Academy schools are blended, tuition-free college preparatory public schools. Students learn online at a physical school campus and can also learn online 24/7. Students work with teachers on-site and online and also receive support from professional "Success Coaches" on campus. Students receive personalized learning plans and a challenging curriculum featuring Advanced Placement and Honors level courses in mathematics, science, language arts, humanities and social studies. Nexus Academy schools currently serve students in grades 9 through 12. For 2013-14, seven Nexus Academy schools will operate in Ohio: Columbus, Toledo, and Cleveland; Michigan: Royal Oak, Lansing, and Grand Rapids; and Indianapolis, Indiana.
Information Sessions:
Connections Academy and Nexus Academy schools will host a record number of free parent information sessions to fulfill a growing number of requests for information. Parents and others can attend one of the nearly 1,000 in-person information sessions and 600 online information sessions taking place across the country throughout the spring and summer.
At the information sessions, parents will have an opportunity to learn about the schools' curriculum, and thoroughly explore the program. They can also interact with school representatives and parents. A complete schedule with dates and locations is available online or by calling (800) 382-6010. For those unable to attend an in-person information session, real-time online sessions with a school representative are available. School websites also offer the latest news and information about events and other opportunities to learn more.
Videos:
Connections Academy Full-time Virtual School
Nexus Academy Blended School
Prospective students and their parents can also learn about Connections Academy and Nexus Academy schools via social networks such as facebook, twitter, YouTube and more.
Connections Education's Community Outreach Director Sylvia Pryor encourages families considering virtual and blended school to attend an informational meeting because, although these schools are a great fit for many students, they aren't the right choice for everyone. "Our goal is to really let parents and students know what they can expect from virtual and blended schools and how they can help support their student's success. In particular, with fully online Connections Academy schools, parents have to make a commitment to be involved in their child's education," Pryor said.
More infomation about Connections Academy and Nexus Academy schools is available online.
About Connections Education
Connections Education is a leading provider of high-quality, highly accountable virtual education solutions for students in grades K–12. Since 2001, the company's Connections Academy division has delivered individualized learning to students through virtual public schools. In the 2012–13 school year, 29 Connections Academy virtual (online) public schools and Nexus Academy blended schools operate in 22 states and expect to serve more than 45,000 students from across the U.S. A private online academy, National Connections Academy, serves students nationwide. The Connections Learning division meets the needs of schools, school districts, and other institutions looking to develop and enhance their online learning programs. Connections Learning delivers a full range of targeted digital learning solutions to the K–12 education community including online courses, a program for homebound students, a digital learning platform, and more. Connections Education is committed to expanding quality education through technology and helping students achieve both academic and personal success. For more information, call 800–382–6010 or visit http://www.ConnectionsEducation.com. Connections Education is part of the global learning company Pearson (NYSE:PSO).