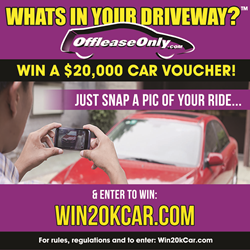 Enter to win a $20,000 Off Lease Only Car Voucher Now! Simply log on to Win20KCar.com
MIAMI (PRWEB) November 07, 2018
Off Lease Only wants to know what's in your driveway?
Send a photo of that car you've been driving for years, or even that small SUV that you've outgrown, and you could win a $20,000 voucher good toward the purchase of any car in the Off Lease Only inventory of more than 6,000 pre-owned cars, trucks, SUVs and vans.
"It's really easy to enter," says Monique Hausheer, Off Lease Only's director of marketing. "All you have to do is snap a photo of your car and then visit Win20KCar.com where, with just a few clicks, you can post the picture and be entered to win an amazing shopping spree."
It's all part of Off Lease Only's "Show Us Your Ride" promotion, which launched earlier this month and will continue until Nov. 30th.
"We just wanted a fun and interactive way to engage with our loyal customers and potential customers on social media," Hausheer said. "We designed the promotion so that entering to win was quick and easy for everyone."
Photos have already come in, she said, including one that got a lot of attention from the Off Lease Only team.
"One of the funniest photos we received so far was of an empty driveway," Hausheer said. "The person who sent that one in clearly wanted to show us that he really needed a car."
That photo and all the others that come in are posted online at http://www.win20kcar.com.
The lucky winner, whose name will be randomly selected at 5 p.m. on November 30th, will have a chance to use the $20,000 voucher in a variety of ways during his or her shopping spree.
"It doesn't mean they'll have to select a car valued at $20,000 or less," Hausheer said. "They can choose a $40,000 Mercedes and only pay the remainder."
Customers who have already purchased a car from Off Lease Only and are still making payments can use the voucher to pay off their loan.
Just a few months ago, Off Lease Only conducted a similar campaign and in the end presented a $20,000 voucher to Josh Tomblin of Fort Pierce, who used it to purchase a Chevy Silverado he found after searching the inventory on OffLeaseOnly.com
And last year, Kai Nichols of Orlando used her voucher toward the purchase of an Off Lease Only Lexus after winning in another similar promotion.
Off Lease Only owner Mark Fischer, who with his wife Eileen founded the company, says the dealership plans to continue offering social media promotions with $20,000 vouchers on a regular basis.
"We see this as one more way to use social media to connect with customers," Fischer said. The promotion is also an opportunity for Off Lease Only to raise awareness and let shoppers know about all the dealership has to offer.
The largest-volume independent used car dealership in the country, Off Lease Only is known for its low pricing, but also for its huge selection of more than 6,000 pre-owned vehicles in inventory.
"When you come to Off Lease Only, not only are you going to save thousands, you're also going to see something incredible," Fischer said. "Each of our four stores has about 1,500 cars inventory, mostly 2015 through 2018 models. We have nearly everything from under $10k- $100,000+."
With a focus on customer satisfaction, Off Lease Only is among Edmunds.com's Five Star premier dealers based on customer reviews and has an A+ rating from the Better Business Bureau.
The company prides itself on transparency, offering a free five-day/ 500 mile exchange policy and no hidden fees.
For complete rules and regulations, and to have a chance to win Off Lease Only's $20,000 voucher in their Show Us Your Ride campaign, visit http://www.win20Kcar.com.
You must be 18 or older to enter and you can only enter once.
To find out more about great deals at Off Lease Only or to search the inventory, visit http://www.offleaseonly.com.