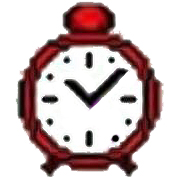 ...People sense that the site is a labor of love, and that the fun we have working on our various online clocks gets communicated to our site's users.
(PRWEB) March 21, 2013
On March 24th, OnlineClock.net will be celebrating its seventh anniversary. The website has been financially successful since its launch and has grown steadily in the number of visitors, which now averages nearly four million each month.
The website is privately and efficiently run by a single individual named Tom Churm. He does all the programming, marketing, and handles the social media presence of the site. He is literally the man behind the site's little curtain. The fact that one guy has accomplished the task of entertaining and serving the time-related needs of millions of people each month is quite intriguing.
Mr. Churm was asked to elaborate on the formula for the website's success. "There are many components to the success of the site. We like to think that people sense that the site is a labor of love, and that the fun we have working on our various online clocks gets communicated to our site's users."
Although the alarm function is one of the main attractions of the site, OnlineClock.net is not just an online alarm clock: there are literally dozens of different types of online clocks and time related tools on the website. They can be accessed by clicking on a small clock icon located at the top of the left side of most pages. Additionally, they can be reached by visiting the site's sitemap page, which is located at http://onlineclock.net/about.
Another attractive feature that has contributed to the website's success is its simplicity. Mr. Churm believes that OnlineClock.net has the simplest and most popular online timer on the internet. The online timer is located at Timer.OnlineClock.net. The site also avoids deluging its visitors with too many ad banners that impede the site's speed or operation. In addition, the website has been making use of powerful cloud servers for several years now, ensuring that its pages load quickly and have nearly 100% up-time.
It is easy to be entertained by the site's various alarms, timers, games and tools. Playing around with these little time gadgets amuses the site's visitors. For instance, many people believe they can count seconds quite accurately by using various methods. There is a game located at http://stopwatch.onlineclock.net/games/5seconds/ that allows visitors to close their eyes and click a stopwatch while guessing how long it takes for five seconds to elapse. Followers of the site are sometimes surprised by either the inaccuracy or accuracy of their methods. They have also been known to chuckle over the irony of wasting five seconds of time by trying to guess how long it takes for five seconds to pass. This is the kind of unadulterated fun the site produces.
One of the many useful features of OnlineClock.net is the new Task Planner. It allows visitors to plan and time daily tasks instead of having a long list of things written down on a sticky note. Visitors are pleased with this feature because it keeps their day well-organized by not wasting too much time on a singular task. It also helps them to avoid feeling overwhelmed.
Everything on the site is free, and there are no requests to enter personal information or an email address to operate any of OnlineClock.net's features. The site is carefully designed to serve the needs of the visitors; it's also designed to be fun. The site is a labor of love for the creator. He doesn't run it as his full time business, but he thoroughly enjoys working on and creating new features. There seems to be a constant creative thought process that serves to improve the website with each passing year. A visit to OnlineClock.net is akin to experiencing a virtual amusement part of timekeeping.
About OnlineClock
Online since March 24th, 2006, the Online Alarm Clock was the world's first online alarm clock website. Online Clock strives to be the number one network for the simplest, most useful and best Online Clocks, Timers and Time Tools. For more information on the various online alarm clocks offered for free by OnlineClock, please visit http://onlineclock.net/about/.