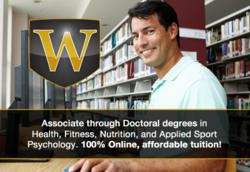 Rancho Santa Margarita, CA (PRWEB) September 21, 2012
With a passion for health, fitness, art and education, Tamara Borrego will bring her multidisciplinary approach to Wexford University as adjunct professor of drawing and painting. A 100 percent online university that includes degree programs for both U.S. and international students, Wexford University offers degrees in health, fitness, exercise and nutrition.
An Orange County native, Borrego teaches in the Paramount Schools with a focus on education in minority communities. Wexford University accepts foreign and international students and credits from universities abroad.
Further, she earned a bachelor's degree in Liberal Arts and Sciences from San Diego State University with a double major in Journalism and Art. She also has a master's of Fine Arts degree from California State University, Long Beach.
"As Wexford University reaches out to students across the world who have a passion for health and wellness, it is important to find professors who share those same interests and values, so we are very pleased that Tamara has joined our growing team at Wexford," said Jack Bauerle, Chancellor of Wexford University. "As a teacher, painter and fitness lover, she will offer our students a new dimension when it comes to their online education."
Wexford University offers the following online degree programs for both U.S. and international students interested in pursuing a health and fitness degree program:
Associate of arts degree in Fitness Training
Bachelor of science degree in Health and Fitness
Master of science degree in Nutrition and Exercise
Master of arts in Applied Sports Psychology
Doctor of Applied Sports Psychology
Wexford University offers affordable online education with winter semester classes beginning January 2013.
Wexford University is dedicated to providing world-class education through cutting-edge technology, offering direct application degree programs in an accelerated format with 100 percent online learning to save time and money. Programs include an associate of arts degree in Fitness Training, bachelor's degree in Health and Fitness, master's degree in Nutrition and Exercise as well as master's degree and doctorate degree in Applied Sport Psychology. Wexford University is the higher education division of NESTA (National Exercise & Sports Trainers Association). For more information, please visit http://wexford.edu/.