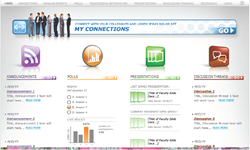 We are excited to offer our clients an advanced online speaker portal solution that is now optimized for mobile usage, while still remaining very user friendly.
San Francisco, CA (PRWEB) May 06, 2014
Viscira, a leading provider of interactive, new-media communication solutions and software products for the life sciences industry, today announced a new release of its Prospero Online Speaker Portal (OSP) with expanded mobile compatibility options for clients. This secure web software platform serves as a robust communication hub for pharmaceutical product speakers, allowing them to easily access all the resources and tools needed to make their peer-to-peer, educational presentations effective and engaging. Prospero's fully integrated Interactive Presentation Builder (IPB) also provides users with the ability to create and save custom presentations that use approved slides and comply with embedded business rules, through an intuitive graphical user interface.
In addition to compatibility with the Apple® iPad®, Samsung Galaxy Tab and other tablet devices, Prospero is now fully compatible with the Apple iOS and Android smartphone operating systems. This is a significant advancement for the OSP software platform as the use of mobile devices by healthcare practitioners continues to rise. Whether they are accessing drug information, undertaking medical research, or communicating with nurses and patients, more and more physicians are using mobile devices within their practices. According to a recent industry report, "six in 10 physicians use tablets in their daily practice." (1)
"We are excited to offer our clients an advanced online speaker portal solution that is now optimized for mobile usage, while still remaining very user friendly," explains Dave Gulezian, President & CEO of Viscira. "With this release, we have made our product even more convenient for busy pharmaceutical product speakers and other users. Prospero is a highly flexible, expandable platform that we will continue to enhance to meet evolving client needs."
Viscira's Prospero product can be further customized to meet clients' specific workflow needs and business requirements. To schedule a demonstration, please contact the company at 415-848-8010 or send an email to sales(at)viscira(dot)com.
The Prospero Online Speaker Portal is just one of many innovative, interactive software applications and new-media solutions the company offers, which range from Viscira's enhanced KOL videos to 3D mechanism-of-action (MOA) animations to interactive visual aids and other iPad applications. Viscira's strategic approach, combined with its delivery of cutting-edge products, has resulted in an impressive roster of industry-leading clients, including Amgen, Johnson & Johnson, Genentech, Pfizer, Novartis and Lilly.
(1) Physicians use their smartphones for drug info. http://worldofdtcmarketing.com/physicians-use-smartphones-drug-info/marketing-to-health-care-professionals/.
About Viscira
Viscira is dedicated to the design and development of new-media communication solutions and interactive software applications for the life sciences industry. Viscira provides a suite of programs that integrate best-in-class technology to deliver engaging and memorable content via various electronic channels. For more information, please visit the company's website at http://www.viscira.com or contact Noёl Ashekian at (617) 429-0834.